Features & Columns
Legends of Jazz Take Center
Stage at Cafe Stritch in Marcus Shelby's Concert Series
The give and take between Marcus Shelby and Cafe Stritch audiences
brings artists' works to life.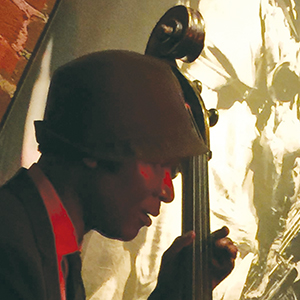 Journalists from Oakland and San Francisco have already suggested Cafe Stritch is the best jazz club in the Bay Area, so allow me to illuminate downtown even more by accentuating the jazz lectures of Marcus Shelby. So far, he's delivered numerous discussions at Cafe Stritch, once a month, all year long. No one knows who or what will happen.
For each installment, Shelby features a particular jazz legend for about an hour, talking, explicating, playing CDs and placing the musician in historical and sociopolitical contexts, after which Shelby's own band then performs the music of the artist he just discussed. Previous subjects have included Thelonious Monk, Louis Armstrong, Duke Ellington, Billie Holliday and Charles Mingus. Next up is Miles Davis this Saturday night. (And boy, that's just a fun sentence to write.)
The talks are not simplified biographical fly-throughs or lofty academic discourses. Instead, Shelby makes everything informal and humorous. Anyone—jazz fiend or neophyte—can show up and let it all sink in. Cafe Stritch provides that kind of milieu anyway. Don't be surprised if young, nefarious jazz types coexist peacefully with downtown octogenarians. It's all about the music.
"In a way, it's kind of like audience development," Shelby says. "We have two parts to it. There's a discussion and there's a performance. There's a constant engagement with the audience, regarding the music. And it begins not at the show, but before the show, so the audience can begin thinking about what music we're going to play, where the music came from, any significant information or aspects about the composer or the artist."
This is a two-way street, of course. During the lecture, the audience brings whatever narrative it wants to bring. The whole thing is like a town hall swapmeet of musical repartee. The discussion itself sometimes verges on jazz: either traditional or extreme free improv with no charts.
"It gives the audience an opportunity to talk about their interest in the particular artist we're featuring," Shelby says. "Or any connections they may personally have, or any insight, so that it becomes a living—as opposed to historical—experience."
As the saying goes, you don't really learn a subject until you start teaching it, which is why Shelby, throughout the course of 2015, has found himself rediscovering these legendary figures as he goes back over the material when preparing for each monthly installment. Having studied this music for most of his life, Shelby brings his own journey into the lectures and the subsequent performances.
This is a profound, groundbreaking idea. In the classical music world, for example, salon-type gatherings have provided similar experiences for as long as classical music has existed. But nothing like Shelby's series has ever really occurred on a regular basis in San Jose, at least not in recent times. It's a jazz history class, but in a bar.
So what better way to go where no one has gone before than to invoke the Prince of Darkness himself, Miles Davis. This Saturday, the genius of Miles will seep in from between the bricks of Cafe Stritch. No one could possibly give Miles his due in just one discussion, so whichever potpourri of music Shelby's band decides to perform this weekend will be the focus of the discussion ahead of time. We might see a cosmic elaboration of the '50s, when Miles had various sax maestros on the front line with him, or we might see the landmark era of the '60s, when the quintets traveled from straight up jazz toward the fusion stuff—all of which seems avant-garde even today. I'm guessing it will be mostly the pre-electric stuff, but who knows. Thankfully, Shelby says he will not be including the Cyndi Lauper covers that Miles stumbled into during the '80s.
"I will always give a disclaimer, in that we're only going to be looking at Miles Davis' feet," Shelby says. "We not looking at his whole body."