Features & Columns
The Beauty of Boring: An Exhibit of Ordinary People in China
The practice of everyday life can be quite ordinary, but it makes
for some extraordinary photos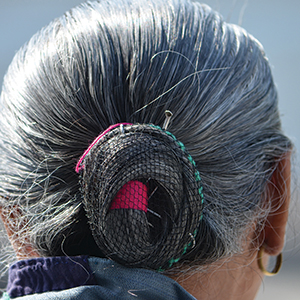 The practice of everyday life can be quite ordinary, but it makes for some extraordinary photos—especially for retiree Mei Fang. While on several trips to China, Hong Kong and Taiwan, she shot photographs of ordinary, everyday people in their element. The resulting exhibit is now displayed on the fifth floor of the Dr. Martin Luther King Jr. Library through May 30. It's a very ordinary show.
Fang worked full-time at San Jose State University as a senior instructional designer in the Center for Faculty Development. For a few semesters she also taught media and technology to journalism students. After traveling back to China several times, she began to capture people in their natural element, without any of them bothered by an intrusive photographer. They seemed to be a lot more friendly than their equivalents in the United States.
"[In the US], people would be very leery, they will be watching me and not as friendly as in China," Fang says. "Because in China, in public places, they're more consumed in their own activities rather than watching out for photographers. So I was able to take photos in the more relaxed way, thus catching a lot of candid moments."
Even the title of the show denotes something plain: Lao Baixing: A Photo Exhibit of Finding Beauty in Ordinary People in China. The phrase, lao baixing, carries multiple meanings. In Chinese, it means one hundred surnames or it can be a term of endearment for ordinary people.
"That Chinese term attracted me so much because that's what I was after, the general people," Fang says. "The people like you and I, everyday people."
The fifth floor of the main library is already a place of ordinary beauty, with an ancient collection of LPs and CDs, plus the stacks of music books and ethnic studies collections. But now one can contemplate a new selection of Mei Fang's photos. The experience is almost like walking through various gardens, zoos or public squares in China, and eavesdropping on the lives of everyday people, the ones usually ignored. In this way, Fang's intention was to capture the regular world, not the business world or the upper crust of society. These are not tourist photos or luxury magazine shots.
"I used to be a vacation photographer," she says. "A weekend gardener type. Many years ago when I was still working, I would take vacations in Asia and particularly many cities in China. And because I'm originally from Hong Kong, despite the rapid changes, in many ways it still fascinates me because it's still like a familiar and yet unfamiliar country. Like a relative's house."
As a result, the exhibit captures the rhythms of the everyday. None of the subjects are rock stars, superheroes or people holding any public persona whatsoever. We're talking the Chinese equivalent of average Joes and Janes.
The titles are genius in their ordinariness: "Hobo Having Lunch" depicts—you guessed it—a hobo having lunch. He eats what looks like a sandwich. He could be anywhere: Hong Kong, Vancouver or even the light rail station in downtown San Jose. But the man depicted in the photo sits on a bench in Yuyuan Garden by the City God Temple. He doesn't look unhappy. He's just having lunch.
In another photo, a balloon vendor takes a break on a park bench in Shanghai's Gucun Park. The shot is called "Balloon Vendor Taking a Break." In still another shot, a retired gymnast practices his routine on a set of public bars. It's titled "Retired Gymnast." We also see koi ponds, roadside convenience stores and elderly people doing tai chi in the park.
The ordinariness has apparently resonated with many viewers. Responding to the gymnast photo, someone wrote in the guest book: "To the retired gymnast, once a gymnast, always a gymnast. Thank you for the reminder, the things we stay alive for. Sincerely, from a believer & admirer." Elsewhere in the guest book, someone wrote, "Y'all make me proud to be Chinese." And in another corner of the same page: "Thanks for sharing ordinary things that other ordinary people don't get the chance to see in other parts of the world."