Features & Columns
Milestones: Textiles of Transition
A new show as the SJ Museum of Quilts & Textiles looks at moments of transformation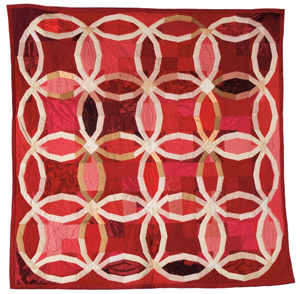 At first, I feel surrounded by wedding rings. They seem to spin in front and on both sides of me, these countless numbers of interlocking ring patterns stitched into quilts. Double wedding ring quilts, it turns out, figure highly in the first room of "Milestones: Textiles of Transition," a new show at the San Jose Museum of Quilts & Textiles that explores themes of birth, marriage and death.
A technique in of itself, the double wedding ring motif first gained popularity in the 1930s and '40s and remains common today. In the show, I view different examples of just such a technique. Sometimes, an artist stitches the rings in an overlapping fashion so that the background color of the quilt remains between the rings; on other occasions, separate stitchings produce motifs of different colors inside the overlapping spaces.
As a result, optical ambiguities emerge. Alternating positive and negative spaces mess with the viewer, sort of like old-school television test patterns.
On the other side of the room, a 2012 work, Traditional Queer Double Wedding Ring Quilt, explodes off the wall in various shades of crimson, burgundy, pink and scarlet. Occupying the interstices between the interlocking white rings are approximately 64 vaginas—(but who's counting?)—dedicated to artist Angie Wilson's relationship with her partner.
An alternative to traditional wedding ring quilts, this one is stitched together with pieces of lingerie, lace and bedding. The vaginas emerge as the foreground, rather than the background, although the effect is subtle and delicate.
That's only the first corner of the room. As I move on, the baby quilts pop right out at me. There's even one constructed entirely from teabags by Ruth Tabancay, titled Blankie. Used teabags of all shapes and sizes are stitched together in a collage and set inside a satin frame.
Tabancay writes that the steady repetition of hand stitching is a calming, meditative process, just like drinking tea. She also contributed Birthing Bed (2009), which is not a quilt but an entire bed adorned with simulated gum tree fruit, symbolizing the various stages of giving birth.
With that, I need another transition. I slide into the next room, the death space, where the mammoth triptych Bonne Nuit (2006), by Wendeanne Ke'aka Stitt, occupies an entire wall.
Much more than a normal Day of the Dead quilt, the piece memorializes many people Stitt knew and had relationships with. A sheer feat to behold, it functions as a buttress to fortify the other powerful works in the room.
For instance, artist Deidre Scherer, who actually worked in the hospice care industry, sewed The Last Year (1988-90), a series of nine thread-on-fabric works depicting headshots of an elderly woman during her final days. With immense compassion and respect, Scherer chronicles her friend's journey toward death—from the onset of her decline, through brief reprieves of renewed strength and, finally, to acceptance and release.
On a passing glance, one would hardly even recognize the intricate stitching. But after closer inspection, one notices that every detail is sewn with the utmost precision. These are sorrowful pieces, yet they still somehow evoke an odd sense of beauty in their sadness.
On a more humorous note, Mary Mazziotti produced Death Gets Married (2012), a sarcastic and morbid set of embroidered muslin panels resembling a comic strip. Death in the form of a skeleton looks for love in the first panel then proceeds to buy a ring for his woman before taking engagement photos with her.
After that, he kills her mother, attends a bachelor party and weds her with a Star Wars theme. Finally, he murders his wife on their honeymoon before starting the whole process all over again by visiting an Asian-singles website.
Mazziotti is also responsible for several vintage dresses, delightfully morose memento mori hanging from the ceiling of the museum.
Hand-stitched death maxims are woven into each garment. A Girl Scout uniform features a female skeleton head waving the three-fingered Boy Scout salute underneath the words "Be prepared." Another dress references the tune "Save the Last Dance for Me." Each one hangs suspended, suggestively rotating, around and around, ever so slowly.
Milestones: Textiles of Transition
San Jose Museum of Quilts & Textiles
Runs through July 21 $8