Features & Columns
The Circus That Ran Away
With a Jesuit Priest
Jesuit priest and performer Nick Weber recalls his days of circus play at Bellarmine and SCU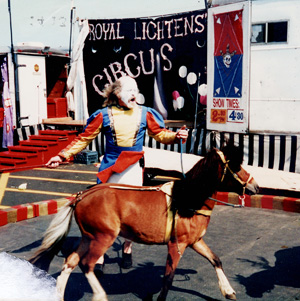 In 1971, a Bellarmine graduate and Jesuit priest named Nick Weber officially launched the Royal Lichtenstein Quarter-Ring Sidewalk Circus in downtown San Jose. Over the next 20 years, the circus went on to perform more than 7,000 shows at elementary schools, high schools, universities, shopping centers, community festivals and churches.
Throughout the decades, it survived fires, blizzards, robberies and thousands of miles of traveling wear and tear. The circus was Weber's dream and his ministry, although the performers came from all points of the spiritual spectrum.
Now living in Milwaukee, Weber returns to Silicon Valley next Tuesday, March 19, appearing at East West Bookstore in Mountain View to read from his 2012 book, The Circus That Ran Away With a Jesuit Priest: Memoir of a Delible Character.
On Thursday, March 21, an special reunion performance takes place in the Fess Parker Theater at Santa Clara University, at 6:30pm, featuring special guests and including guitarist Stevie Coyle and juggler Dana Smith—both alums of SCU and the Circus.
San Jose native and SCU Bronco Kevin Curdt, who toured with the group as a juggler, unicyclist and trapeze artist, slipped me a classified document titled "An Overview of Life With the Royal Lichtenstein Circus."
Typed on circus stationery from at least 20 years ago, it says the circus, at its foundation, was "a self-consciously poetic invitation to play, wonder and imagine, realized through an energetic parade-ritual of traditional circus visions. Thus a potpourri of juggling, magic, comedy, mime, acrobatics and animal acts is seen to complement and inspire hope and quality in the day-to-day life of its spectators."
Weber's book tells his life story, from a humble youth in Yuba City to his arrival at Bellarmine in 1953 to a storied career running the circus and breathing fire. The Circus That Ran Away With a Jesuit Priest is jammed with historical tidbits form the underbelly of San Jose.
For example, Weber explains the moment when he launched the ideas that eventually turned into the circus. He stood on a box in downtown San Jose's Fountain Alley, the box lettered with "Sam's Sidewalk Show," and performed balancing acts and escape tricks for the passersby.
"Those folks who gathered were midday shoppers and retired people who lived above the downtown stores," Weber writes. "They were all guinea pigs. So was I. It was a mutual test to see whether I could hold an open-ended crowd, all by myself. I had no permit, no space reservation. Such things were unneeded in San Jose those days."
Page 128 even features a photo of Weber sitting on that box in Fountain Alley in 1971. By then, Weber had graduated from the Jesuit School of Theology at Berkeley and was teaching at St. Ignatius College Prep in San Francisco. Within a few months thereafter, other folks came on board to strengthen the crew, including a then-unknown Steve Aveson.
Now a multiple-Emmy-winning newsman, Aveson claims the Royal Lichtenstein Circus on his resume, right alongside ABC News, 20/20 and Good Morning America. Photos and vignettes of Aveson appear throughout the book.
Aside from barn-burning yarns from the traveling circus life, the book functions as a sidelight on Santa Clara Valley history, especially Chapter Five: "Stretches." Here, Weber describes in vivid detail his arrival from Yuba City and new experiences at Bellarmine High School, beginning in 1953. Full tuition, plus room and board, was $1,100 per year. There were 800 students, 200 of which were resident students. Weber describes march-stepping through a meticulous daily schedule of grooming inspection, mass, meals, room cleanups, classes and study halls, all before lights went out at 9:30pm nightly.
"I immediately sensed that I was a small-town boy," writes Weber. "The skyline of downtown San Jose was a fair distance from campus but looked immense, and the neighborhood areas stretched all the way to the edge of that skyline and in all other directions as well."
We also get curious insights into same-sex school life at Bellarmine, adolescent self-doubt, bravado and sexual experimentation. I won't spoil the action for you. In any event, Weber says his pre-circus inclinations began to materialize in the form of parlor tricks and sleight-of-hand games: "It took no time at all to find a magic store downtown on First Street where I spent $1.25 of my allowance for 'The Siberian Chain Escape,'" he writes.