Features & Columns
When Oscar Wilde Visited San Jose
Famed author Oscar Wilde's U.S. lecture tour included a stop in San Jose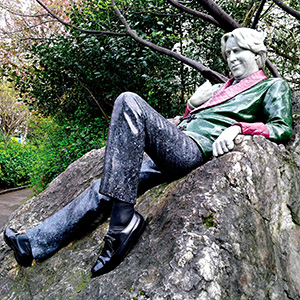 Later this summer, San Jose will host the Sister Cities International Conference, expected to attract hundreds of delegates from cities across the globe, all expounding the virtues of international diplomacy.
"Sister City" is the term we use in the US, but in other countries it's also called "twinning." In San Jose's case, we're twinned with many cities, in particular, Dublin, Ireland—a relationship launched 28 years ago by then Mayor Tom McEnery and his Dublin counterpart, Bertie Ahern.
Dublin is one of the literary capitals of the world, claiming numerous legends and laureates, but the one who stands out the most for me is Oscar Wilde. He was more eccentric and dressed better than the rest, he sauntered around with a pet lobster on a leash, and he was also the only one of those legends that ever visited San Jose.
When I visited Dublin last month, I made a point of visiting the famous Oscar Wilde statue in Merrion Square, right across the street from his childhood home. Since our cities are twinned, he felt like a distant brother to me. As a result, the experience drove me to shatter the space-time continuum and research the celebrated occasion when Wilde actually came to my neighborhood 132 years ago.
Wilde first visited America in 1882 for a highly promoted lecture tour about Aestheticism that took him to about 100 cities, including San Jose. Controversy surrounded him from the very beginning, primarily due to the way he dressed, and he was ridiculed by newspaper columnists from coast to coast. When it came to reporters, Wilde was a master of theatrical behavior and often treated interviews as performances, manipulating entire encounters just to propagandize his own notoriety. In that sense, he was decades ahead of his time.
In 1882, San Jose's population was about 13,000. The town's most lavish venue, the California Theatre (unrelated to the current California Theatre) extended one city block from First Street to Second Street, right about where San Jose Bar & Grill is now. Some city directories place it at 81 S. Second, while others say 85 S. Second. In any case, the 958-seat complex was at that time the finest facility in San Jose, before it burned down several years later.
Oscar Wilde appeared at the California Theatre on April 3, 1882—just a little more than a century before McEnery became mayor—to deliver a lecture on the English Renaissance. He also spoke about concepts of beauty and "art for art's sake." A recap in the San Jose Daily Herald opened with the following: "The High Priest of the Esthetes lectured last night to an audience which filled the dress circle of the California Theatre. All the most fashionable and cultured people of San Jose were there and the attention they paid to every word of the lecture showed how deeply they were interested in the lecturer and his subject."
With euphoric intrigue, The Herald continued by mentioning that Mr. Wilde "was dressed in the usual velvet coat, knee breeches and silk stockings, ruffled shirt, front and lace ruffs," and that we was "a tall, well-proportioned man, with a very boyish face, smooth as a woman's, and made to look more effeminate by the hair, which is long and hangs down round the face. His eyes are beautiful, shaded with long lashes and full of expression."
Unlike San Jose Bar & Grill, the theater never toyed with a dress code prohibiting neck tattoos, baggy pants or excessive gold chains. It makes me wonder what would happen if Wilde were alive today and tried to sneak into that bar with his pet lobster.
In any event, that first American tour is where Oscar Wilde honed his ideas on beauty and art, and it proved to be fertile ground for the extremes of ambiguity, sarcasm and paradox he so brilliantly employed in The Picture of Dorian Gray just a few years later. The time is right for a permanent plaque on Second Street devoted to Oscar Wilde's appearance in San Jose. I'm sure our next mayor will be cultured enough to find a way to pay for it.