Features & Columns
PechaKucha 20x20
Comes to San Jose
PechaKucha 20x20 lets people share their vision for the city—in 20 seconds tops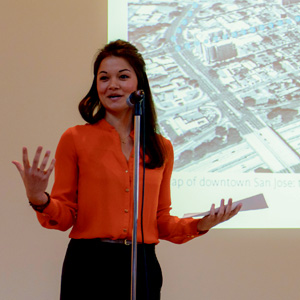 In the 10 years since its inception, the phenomenon of PechaKucha 20x20 has gone viral in more than 600 cities around the globe, including San Jose. For the uninitiated, PechaKucha 20x20 is a simple presentation format where anyone can show 20 images, one after the other, each for 20 seconds, while he or she talks.
Pronounced pa-CHOCK-oo-cha, the idea began in Tokyo in 2003, when two architects craved a more informal, cafe-style setting to present their ideas.
Enter San Jose's own Ric Bretschneider, one of the folks you can officially blame for PowerPoint's existence. A longtime software designer and technologist, Bretschneider spent 17 years at Microsoft and finally got sick of people blaming the software for their own inability to give clear, focused presentations.
"I love the application, but I knew the application couldn't guide the creation of content, without being intrusive," Bretschneider said. "The example I use all the time is, 'Well, you can't blame a hammer for a poorly built chair.'"
Skip to 2009. No longer at Microsoft, Bretschneider discovered the informal PechaKucha phenomenon spreading around the world and realized that San Jose needed its own event.
He took the initiative and launched the first gig in October of that year at the San Jose Improv. Now, specific parties go down around four to six times a year. Any venue of just about any size can host an event with any topic.
Last year, for instance, dozens of folks jammed into the San Jose Institute of Contemporary Art to see presenters articulate what San Jose meant for them. Politicians, urban planners, artists and publishers all made the evening a successful San Jose lovefest. Councilmember Sam Liccardo's presentation was called "Downtown San Jose: Land of Biscotti and Cannoli Trees."
A few months ago, successive events—PechaKucha San Jose, Volumes 9 and 10—unfolded at the new Cafe Stritch in the former Eulipia space on South First Street. The bar and cafe setting proved to be ideal, with a stage against one wall, plus work by local artists hanging everywhere. It was a jazzy, Bohemian environment, not unlike a neighborhood art cafe in Europe—with local gadflies waxing poetic to PechaKucha technology.
And just last week, another party unfolded at the San Jose Museum of Art. This one was titled "My Design Vision for San Jose," another lovefest. The main gallery was between shows—the Eric Fischl exhibit had just come down—and the lobby wall was painted white, a perfect backdrop for a large screen, enabling local business owners and advocates to envision the San Jose they'd all like to see.
Presenter Michelle Beasley kicked off the night by advocating a San Jose dominated by people, not cars. That is, people who walk, exercise, float, dance and connect. People who window shop on foot. Urban spaces catering to pedestrians first and foremost. She said (I'm paraphrasing) that pedestrians want to walk by interesting buildings, not ugly blank faades and parking garages butting up against the sidewalks. Any public art should reflect the history or people of San Jose. We're not Anywhereland, America.
The other breath of fresh air was Tracey Ariga. Her unabashed optimism about accessibility, approachability and transparency concluded with her declaring that she just loves San Jose, plain and simple. Thunderous applause followed.
That sentiment was the theme of the whole night. Steve Borkenhagen of Cafe Stritch also made a presentation, articulating what many of us have noticed about downtown in the last two years: that a new generation of people aged 20-35 are starting independent businesses and trying to make awesome stuff happen, all at the same time, right now. It's never been that way before. Even a terminally unimpressed columnist can say so.
All in all, PechaKucha is an effective presentation format for teaching people how to focus their thoughts into a concise production without wandering all over the place and boring the audience.
"It isn't, strictly speaking, the way you'd do all your business presentations," said Bretschneider. "It's more like an exercise you do to teach yourself techniques on how to focus and how to bring just the points across."