Features & Columns
Photo Challenge 'This IS San Jose' Extols City's Diverse Identity
The San Jose area explodes with a zillion identities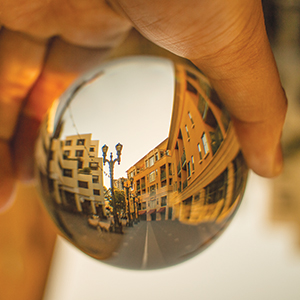 Here's an idea: If there's one topic to unite everyone in San Jose, it's that 100 percent of us are sick and tired of talking about San Jose's identity. Every year it comes up, with people having the same exact conversation. The way I see it, there is no such thing as any singular San Jose identity—never has been, never will be—so it's a pointless, drab, ho-hum conversation.
This area explodes with a zillion identities. The multiplicity and schizophrenia should be celebrated. End of discussion. Forever. Can we just get on with more stimulating conversation? Please?
I'm only frothing about this because a heroic individual, Charles DiLisio, wants to rightfully lionize the multiplicities of San Jose via photography and photography contests. After putting the word out all year long, he helped curate a smorgasbord of photos from each City Council district as part of a contest, aptly titled This IS San Jose.
The goal is to promote the beautifully convoluted web of multiplicities emerging around here, in terms of both geography and psyche. Entries came in from all across the sprawling city limits—245 photos to be exact, 50 of which will be displayed in the City Hall Rotunda during a blowout reception Thursday, Oct. 27, from 5:30-7:30pm. The photos will stay there until next spring, when the contest starts all over again. Four major sponsors kicked in to support the whole shebang: Bay Photo, San Jose Camera, San Jose Water Co. and Rocky Nook Books.
As I would expect, all of the participating photographers are intrinsically curious people hell-bent on exploring the place in which they live. None of them seem embarrassed to be here. All of them are way too smart and mature to waste time making idiotic comparisons to landmarks in other cities.
But I digress.
DiLisio, a startup consultant with a side interest in photography, was already laboring away on his own, documenting the forgotten buildings of Silicon Valley, stuff like Shockley's lab or the former Rolm headquarters. From there, he began contacting every institution imaginable, suggesting a contest and/or establishing an elaborate network of image mavens that might someday help contribute to a yearly photo festival about all things San Jose. He approached the Preservation Action Council and History San Jose. He showed up at high schools. He went to camera shops and bookstores. The way I see it, This IS San Jose came to fruition from the results of DiLisio's curiosity about his home turf. It's that simple. He should be applauded.
Perhaps the best thing, though, is that DiLisio convinced the city government—where people are even more sick of talking about San Jose's identity—that the City Hall Rotunda is a worthy place to display the winning shots. Telling people to "photograph anything you think captures San Jose" might seem a little broad or unfocused, but I have a gut feeling this project will only get better with each yearly iteration. A lot of talented and creative people are coming out of the woodwork around here. You'd be surprised how many individuals are already pounding the pavement and transforming their everyday exploits into photography or other works of visual art. And especially for young people, to see one's photo on display at City Hall is a rocking experience, let alone a great addition to a portfolio.
The breakdown of photographs by council districts is another interesting aspect of This IS San Jose. In 1980, the city carved itself up into what's often lambasted as the "mini-mayor system," 10 haphazard districts represented by 10 councilmembers with their own individual fiefdoms. Many large cities do this, but in San Jose's case, it's part of why the city feels less like a metropolitan area and more like a gaggle of small towns duct-taped together with vast numbers of people never exploring outside their own district.
Thankfully, this seems to be changing and This IS San Jose could be yet another creative project that alleviates some of the disjunct. Forget about trivial "identity" conversations. Instead, let art unite the masses.
This IS San Jose
Thursday, Oct. 27, 5:30-7:30pm
San Jose City Hall Rotunda
www.thisissanjose.com