Features & Columns
Cannabis Measure
Heads to Ballot
Californians finally get to vote on legalization after years of failed efforts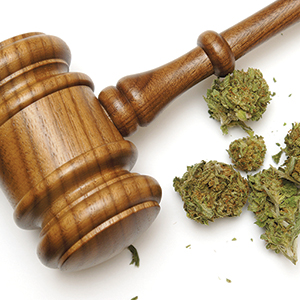 A broadly backed initiative to legalize marijuana in the country's most populous state will be on the November ballot. California's Secretary of State made it official last week, certifying enough valid signatures to qualify the measure.
"Today marks a fresh start for California, as we prepare to replace the costly, harmful and ineffective system of prohibition with a safe, legal and responsible adult-use marijuana system that gets it right and completely pays for itself," says Jason Kinney, spokesperson for the Adult Use of Marijuana Act, commonly shortened to AUMA.
California joins Maine and Nevada among states that have qualified marijuana-legalization initiatives for the fall ballot. In two more states—Arizona and Massachusetts—legalization campaigns are overcoming final hurdles and are almost certain to join them. But an effort in Michigan faces an uphill battle.
Pot is already legal in four states, voted in by residents in Colorado and Washington in 2012, and Alaska and Oregon in 2014. Washington, D.C., approved possession and cultivation, but not a legal marijuana market, that same year.
Seeing more states go green in 2016 is one thing, but California is the Big Enchilada. With a population of 38 million, its market is more than twice the size of all the legal pot states combined, and it represents more than 10 percent of the entire country. What is now a legal pot industry generating hundreds of millions of dollars in sales will easily tick over into multibillion dollar territory once California joins in.
And it looks like that's likely to happen. A Probolsky Research poll in February had support for legalization at 59.6 percent. A Public Policy Institute of California poll in May had support at 55 percent, but at 60 percent among likely voters.
Polls like these bode well for proponents, but skeptics can point to the failed Proposition 19 effort in 2010, which came up short with 47 percent of the vote after polling above 50 percent for months that year.
Since Prop. 19 failed, legalization has won in every state where it's been on the ballot, and the national atmosphere around the issue seems to have relaxed. And unlike in 2010, this is a presidential election year with higher turnout than off-year ballots. The omens look good.
Phillip Smith is editor of the AlterNet Drug Reporter and author of the Drug War Chronicle.