Features & Columns
Silicon Alleys: Power of Babel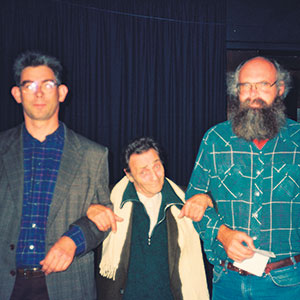 The Dutch master of sound poetry, Jaap Blonk, will return to San Jose for the first time in 24 years this Saturday, when he unleashes guttural phonetic madness at Anno Domini.
Now, before I go off the deep edge with this, allow me to explain that sound poetry is an artistic form emphasizing the raw sounds of the voice as opposed to syntax or semantics. We're talking pure vocal audio, the human voice as noise generator in a performance context. To the uninitiated, watching this stuff might lead you to question the person's sanity or call the paramedics, but as an art form, sound poetry traces all the way back to the dada artists in Zurich, circa 1916, and then even further back to the Italian futurists and perhaps even to "Jabberwocky," if you really want to split hairs.
In any case, this is yet another time-shattering full-circle moment reminding me that I still live in San Jose for a reason. You see, in September and October of 1994, soon after San Jose State gave me a music degree with emphasis in electro-acoustics and computer music, I went to Europe for the first time, taking three weeks to spend time with sound poets, academic computer music composers, neo-dadaists, avant-garde performance artists and troublemakers from various creative traditions—categories that often overlapped. I was studying, researching and/or performing such material and I can safely say it's what I wanted to do with my life. I didn't want to spend one more second in San Jose.
Larry Wendt, then the technician in SJSU's School of Music and the only San Josean ever to appear on a Nurse With Wound album, was also a decadeslong sound poet with a network of connections stretching across oceans. Larry was traveling in Europe at the same time, since he was doing a performance on the same bill with Jaap Blonk and many others at the Bobeobi Festival of Sound Poetry in Berlin, which took place the first weekend of October, right before I flew back. So I showed up, ran the slide projector for Larry's performance and got to drink with legendary sound poets, artists and troublemakers, old and young, from around the world, including Jaap and Henri Chopin (see photo.) Many of the artists involved could legitimately trace their creative ancestry back to dada, the lettrists, fluxus, Italian futurism or numerous other threads of the 20th century avant-garde. Some of them, like Chopin, have since passed away, unfortunately. As a first trip to Europe, the whole shebang was more than I ever imagined.
Back home at SJSU, my teacher Allen Strange, who'd traveled with me during an earlier part of the trip in Denmark, where we attended and worked at a music conference, came home to San Jose and, as a joke, told people I was staying in Europe. He said I was actually smiling all the time, enjoying myself and was not going to come back. At first, no one knew if he was serious or not.
But for whatever reason, I did come back. And so did Jaap. Later in October, just a few weeks after the Berlin festival, Jaap came to America for the first time, including a gig at SJSU. We picked him up at the airport and even took him to Super Taqueria on 10th Street. Back in those days—late '80s, early '90s—whenever Allen or Larry hosted a European artist at SJSU, they'd always take him to Super Taqueria. At the time, downtown San Jose was a total dump, but since Super Taq was still a new concept, it became an effective local place to bring Europeans who'd never eaten real Mexican food. And Coronas were about $1.75. For the gig, Jaap eventually gave a powerful, outre and hysterical performance in Room 150 of the Music Building, horrifying the opera singers out in the hallway. It was loud but, according to Allen, not as loud as when Henri Chopin was there in the '80s.
Now Jaap is returning to San Jose for what should be a memorable gig at Anno Domini this Saturday, and I am still here to write this column and tell you about it. Let the voices be heard!
Jaap Blonk with: SCLOrk: The Santa Clara Laptop Orchestra
Anno Domini, April 7
Doors 7:30pm. Show: 8pm.
$10/ $5