Features & Columns
Cafe Stritch's Rahsaanathon Vibrates with Positivity in Fifth Year
Every year that Cafe Stritch pays tribute to its patron saint, Rahsaan Roland Kirk,
bright moments appear on multiple levels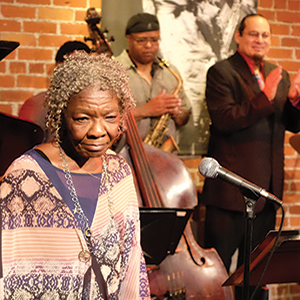 Every year that Cafe Stritch pays tribute to its patron saint, Rahsaan Roland Kirk (1935-1977), bright moments appear on multiple levels. Spacetime continuum-shattering vibes have already surfaced in this, the fifth year of Rahsaanathon, via the presence of Todd Barkan, proprietor of the legendary jazz club Keystone Korner in San Francisco. Barkan toured with Kirk multiple times and showed up a month ago at Stritch, ratcheting up the anticipation for this year's festivities.
Kirk's influence is multidimensional. He lost his sight at an early age, but he still played three saxophones at once, including a straight alto that gave Cafe Stritch its name. His music and positive, uplifting attitude left a long-term impact on thousands of musicians and fans. Each August at Stritch, Kirk's old bandmate and friend Steve Turre shows up with a ferocious entourage of master musicians for a three-day set of Rahsaan's best tunes. On Sunday, Stritch will screen Adam Kahan's documentary on Rahsaan, The Case of the Three Sided Dream.
So, as much as I can disseminate the history in linear language, allow me to spiral back to Keystone Korner, San Francisco's North Beach jazz refuge of iniquity that Barkan orchestrated from 1972 to 1983. It was the kind of place where diamonds emerged from the roughness of life.
"It was the real deal as far as an urban, gritty, smoke-filled, sweaty, hot jazz club," said Steve Borkenhagen, who first opened his own jazz cafe, Eulipia, in 1977. The name came from one of Kirk's most famous tunes. Decades later, in 2013, Borkenhagen's sons, Mike and Maxwell, would spawn Cafe Stritch in the same building. But the current venue is more musically, spiritually and theatrically inspired by Kirk's legacy and life, deepening the connections. Borkenhagen the elder said that in 1977 he wasn't trying to copy or emulate Keystone Korner per se, but bright moments were definitely in the air.
"The grittiness and the small aspect of Keystone probably did have an effect on us in the sense of realizing that you didn't have to be a giant jazz club or in New York to have great players," Borkenhagen said.
At Keystone Korner, Kirk was inseparable from the spirit of the place, performing and recording a now legendary live album, Bright Moments. The title track referred to those special convergences of pure bliss, when your favorite meal comes to the table, or your main squeeze rolls in and it's just the two of you, or any other scenario in which light dispels darkness.
Barkan even wrote the lyrics for the title track, "Bright Moments," and the concept continues to play a role in his life—it's in his outgoing voice message and on his business card. Kirk's outlook, to this day, remains a massive inspiration.
"Even though he could be very, very realistic in his portrayals of the struggles of everyday life, Rahsaan had an incredibly positive and positivist viewpoint and practice through his whole life," Barkan said. "His music was his torch and his fire and his light in the tunnel of life. He carried that light with him to the end of his days. ... Himself, and his pride, and his dignity of being all reflects itself in the song 'Bright Moments.'"
Such are the vibes during the first weekend of August, when Kirk's musical spirit is channeled at Cafe Stritch. This year it started early. A month ago, Barkan hit the Bay Area to celebrate the 45th anniversary of when he began operating Keystone Korner. In yet another instance of previous dimensions of time spiraling back to the forefront, Barkan jumped in with the band at Cafe Stritch and sang the lyrics for "Bright Moments." There he was, with Kathy Sloane's photo of KIrk on the brick wall behind him, in a club directly inspired by the spirit of his old friend Rahsaan Roland Kirk.
Barkan said the experience at Stritch was wonderfully eerie, an uncanny but positive throwback. "I felt the spirituality and the energy of late '60s, early '70s San Francisco Keystone Korner—ionizers on the ceiling taking the pot smoke out of the air kind of vibration. ... It had that type of wonderfully constructive air.
"Being able to sing the lyrics of 'Bright Moments' in that club dedicated to Rahsaan was one of the joys of my life. I'll never forget it and I'll always treasure it for the rest of my days."
5th Annual Rahsaanathon
Cafe Stritch
cafestritch.com
Thursday, Aug. 3 - Sunday, Aug. 6