Features & Columns
Rich Jacobs' Move Photography Invades Seeing Things Gallery
Skaters, rockers and photography geeks join forces for post-punk Seeing Things Gallery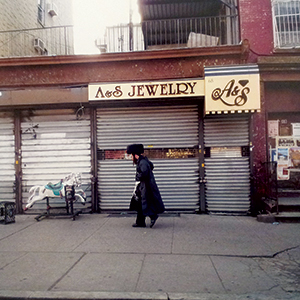 After slithering into Seeing Things Gallery on a Friday afternoon, I am surrounded by aging punk musicians, photographers and skaters. In most cases, each person here is all three.
Owner Jai Tanju is banging nails into the wall, prepping for his latest exhibit: one of Rich Jacobs' Move Photography shows. Some of the work is up, while more of it sits on tables ready to hang. In many cases, the artists are half-academic and half-punk, meaning, I immediately feel a sense of belonging.
With that, the artists begin to show up. Mofo of the Drunk Injuns lumbers in with his iconic Thrasher shot of the dude drinking a beer while skating an empty pool. Curator Rich Jacobs is holding court overseeing the install. Ray Stevens, of 8,000 San Jose bands over the last 34 years, is yakking with Tim Kerr about some esoteric faction of some skate scene in some city decades ago, that is, in-between band stories, tour stories, skate-ramp tales and all sorts of rad verbiage.
Speaking of Kerr, I'm standing next to him, and, yes, it's the same Tim Kerr of the Big Boys and also of Monkeywrench, also the same dude in the Texas Music Hall of Fame, and yet that same dude who studied with photographer Garry Winogrand. It's a lot more entertaining than the hipsters in the nearby Starbucks.
Kerr, who exhibits paintings and photography nationwide, tells me that he can be difficult to travel with in cars because he always interrupts the other person in the car. He's prone to distraction, always pointing out stuff on the road that he would like to photograph. Tanju, also a photographer, overhears us and claims he's the same way. "It's like being a skater," they both agree. "Everything you look at on the street, it's like, 'Oh, that'd be a cool thing to skate.'"
Kerr's contribution to the show combines his own photography and painting into post-punk collages, as if Raymond Pettibon got hammered on acid-laced Kool-Aid and flipped through old Life magazines. The whole jazzy shebang looks like found material, as if Kerr pilfered photos of people standing around at a street parade, and then glued them onto a painting. But instead, the shots are indeed taken from his own work.
"People are always asking me where I got the photos from," he says. "But then I have to tell them, 'No, those are my own shots.'"
Much of the show fuses skateboarding life with urban decay and street culture with a gloriously lowbrow post-punk ethos. Just when I thought I'd finally seen way too much of this over the years, here it comes again and surprises me. Even the non-skate-culture stuff seems to exude a strange yet beautiful sense of outsiderness. Andrew Paynter, for example, provided nine lo-fi Polaroid shots of stuffed animals from a natural history museum, all of them creepy and yellowish. Then he framed them into one beveled-mat presentation. As a result, it feels like a portal into a nightmarish land of gazelles and zebras, a curious juxtaposition of lowbrow and highbrow, sort of a cross between a child's see-through telescope game and The Circus of Dr. Lao.
Just inches away, I see a Brian Maryansky photo. Like Kerr, he's another former indie musician with a photography degree. Maryansky's contribution to this particular show, however, features a beautifully ruined Rye, New Hampshire, tugboat, propped up on jackstands, one that simply says "Slayer" on the back. In the background, what's left of recent snow lies scattered about the winter landscape. In still other cases, more legends from indie and punk scenes decades past appear in the show, like Murray Bowles, whose 1980s-era punk gig photos fill an entire table in the corner.
In short, the show is a gorgeous tiny microcosm of the half-punk, half-academic universe, with Texas, New York and California all contributing in galactic proportions. As I show up for the opening reception, on the following night, the joint is packed. Kerr is autographing stuff left and right. I also see someone's mid-80s-era Sonic Youth shot I missed the night before. As a result, I begin to harmonize my academic and punk halves without even trying. And that is what art is about.