Features & Columns
NVIDIA Conference Explores
Future of Driverless Racecars
Deep learning flooded the San Jose McEnery Convention Center last week,
when NVIDIA staged its biggest-ever GPU Technology Conference.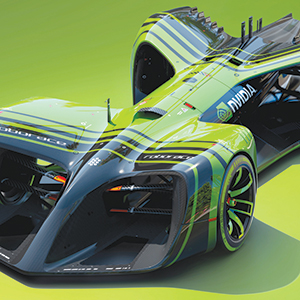 Deep learning flooded the San Jose McEnery Convention Center last week, when NVIDIA staged its biggest-ever GPU Technology Conference. Thousands of graphics developers stuffed the building and CEO Jen-Hsun Huang spent more than two hours keynoting announcements. As usual, conventions and trade shows bring more people downtown than anything the Super Bowl devised.
In fact, some of the Virtual Reality and/or GPU-based technology employed by the NFL appeared in various sessions and hands-on labs. At the show, VR was one of the main themes underlying everything, along with autonomous vehicles, drones, AI and deep learning. Paradigm shifts are afoot.
These types of massive conferences seem both above and below ground at the same time. Thousands of delegates descend upon the neighborhood, yet no one who lives here has any idea what's going on inside. The sheer magnitude, the bombast, thousands of people flooding the exhibitors' floor to explore new technologies, all go mostly unnoticed to the general public. Inside, hundreds of scientists and engineers discuss how to advance the state of their fields, yet it feels like a secret event.
At the conference, software engineers from Pixar talked about realtime 3D graphics in the film industry. Hardware engineers talked about wearable personal assistants for the blind. Rob High, of IBM Watson, demonstrated cognitive systems that use emotional analysis to determine people's' personalities based on the dating profiles they write. Car manufacturers, medical researchers, geophysicists, VR sycophants and molecular biologists all demonstrated their projects and research.
Here's just one example: Folks from Roborace spilled stats on the world's first self-driving electric race car, which aims to function at the intersection of cognitive computing, motor sports and entertainment. Measuring 15 feet, nine inches long and six feet, seven inches wide, the vehicle is 100 percent driven by NVIDIA's DRIVE PX 2 supercomputer, utilizing deep learning for 360-degree situational awareness. The car processes inputs from 12 different cameras, plus radar and ultrasonic sensors to learn from its environment and develop its own driving ability.
For the contest. prospective teams of programmers get to submit their algorithms and code to run the cars, which will first compete in a virtual race. The winners will then get to see their software operate the cars in the real race, in which each car is identical, with the same hardware and sensors. Thus, unlike F1, it's not a competition of budgets or which teams have the most money. For Roborace, the programmers are all on the same playing level. It's a competition of software engineering and programming chops. It's a battle to build the smartest artificial mind to run a car in the smartest fashion.
The point isn't to replace human-powered races, in my opinion. In fact, it may help spur future technological developments in F1 racing. Researchers now have the computing power to design, implement and test a race car without the driver, reducing risk.
As someone who grew up hacking with the first era of PCs, I would have killed to learn this stuff in Boy Scouts, rather than whittling a wooden toy car for some dorky Pinewood Derby. Imagine if grade school kids could learn how to write software to operate autonomous race cars. I mean, here in Silicon Valley, this is exactly what we should be teaching kids.
When it comes to the Roborace car, designer Daniel Simon, who previously designed the light cycles for Tron: Legacy, stood there at the podium and said the idea was to introduce beauty and sleekness into racing. Admittedly a big fan of '60s racing, he said: 'The surfaces on this car are sleek. I wanted something that even a 10-year-old child could draw.'
A company whose processors form the basis for much of the world's graphics-intensive number crunching, NVIDIA never seems to occupy the same household-word status as other large Silicon Valley companies. Maybe it's due to being primarily a hardware company, I don't know. Headquartered in Santa Clara, NVIDIA is also active in corporate social responsibility. Several years ago, I watched them as they helped rebuild Overfelt High School. Maybe now they should teach the students to program self-driving responsible race cars.