Features & Columns
San Jose Jazz Summer Fest makes
a scene in downtown San Jose
The silver anniversary of the San Jose Jazz Summer Fest unfolded on several stages, streets, sidewalks, bars and restaurants last weekend.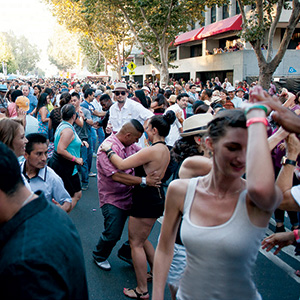 The silver anniversary of the San Jose Jazz Summer Fest unfolded on several stages, streets, sidewalks, bars and restaurants last weekend. When viewed through a yin-yang lens of half-urban and half-suburban, the experience tilts slightly more urban as each year goes by.
Cafe Strich threw its second annual celebration of its patron saint, Rahsaan Roland Kirk, leading up to the festival. As with last year, this three-night series of cosmic mind-blowing sets was not technically part of the festival, but one couldn't separate them from the festival experience. A jammed-to-capacity house, night after night, anticipated the weekend. From the tenor sax of James Carter, I heard an entire zoo: mynah birds, elephant seals, peacocks and maybe a rhino. The bricks seemed to loosen from the walls, even during soundcheck.
Both Strich and the Blackbird Tavern Annex couldn't even plan for how many people showed up en masse to cram into those spaces, during the festival proper. It made for great photo-ops—people lining up to see gig after gig—but I just hope the organizers can scheme more effective logistics next time around, or least add more urban venues and spread things out a bit.
Speaking of urbanism, one obvious difference this year was that more of the festival musicians seemed to hang out in the bars afterward, whether observing, sitting in or just telling stories. In one case, I sat there with Rahsaan Roland Kirk's widow, Dorthaan, at a sidewalk table outside Stritch, surrounded by gobs of people and musicians, and listened to Jerry Gonzalez of the Fort Apache Band tell me stories about Chet Baker. Wow.
I also found it simple to view the fest experience through another type of lens. A fave phrase I've used in this space before is: "Beneath the native lies the exotic." Both at the micro and macro levels, I'm talking about. That's what I mean. I went native, not once, but several times. And on two of those occasions, I turned Japanese.
At the Blackbird Annex, Akira Tana's Otonowa project took traditional Japanese pop tunes or melodies, ancient and modern, and reimagined them with a jazz sensibility. They even covered one tune by the '60s pop duo, the Peanuts, aka the two Mothra girls. Tana asked the audience if anyone knew who the Peanuts were. I was the only one who raised my hand.
In a more macro venue, the California Theatre, another landmark San Jose collaboration between The Bangerz and San Jose Taiko took place. This was one of most anticipated journeys of the festival. Although it seemed repetitive after 70 minutes, it was great to see two homegrown local crews express some San Jose solidarity. In fact, I never thought I would see someone in a Taiko uniform, rapping, in a multimillion-dollar-restored classical music venue, rhyming "arigato" with "San Jo." That was rad.
Another show on that same stage took us from the South of France to Andalusia and on to North Africa and India, all in one hour. The romance-oozing Gypsy Allstars featured Mario Reyes of the Gipsy Kings bloodline, plus a few other virtuosi including Fabio reincarnated as a French dude on a trap set. I imagined a new type of cheesy romance novel. I wanted to grow my hair even longer, learn drums, get more rhythm in my life, and be that dude on the cover. Maybe if I just learned French, I could pull that one off. In any event, just imagine a stripped-down Gipsy Kings with female Rajasthan-influenced vocals, a tabla player and Spanish flamenco babes sizzling across the stage. I managed to whirl like a dervish for at least a few moments. The romance was in me somewhere, I could tell. And they played "Un Amor," in case you're oozing to know.
All in all, so much more unfolded throughout the neighborhood, I couldn't even grasp the magnitude of it all. Bootsy Collins wearing a San Jose Earthquakes shirt on stage. Kris Bowers doing impressionistic solo piano. Local professors, high school bands and college bands. Junior-high-aged street buskers doing Leonard Cohen's "Hallelujah" on ukuleles almost driving me to tears. As the whole thing came to a close Sunday night, Cafe Stritch raged past midnight. I didn't want it to end.