Features & Columns
Street Meets Elite
Jazz Summerfest, First Fridays events make for harmonious melting pot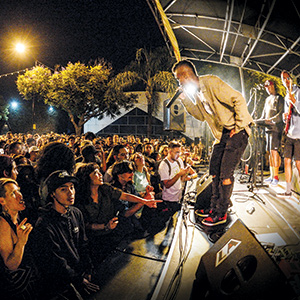 Inside Cafe Stritch, "The Inflated Tear" came to an end at the stroke of midnight, simultaneously providing a poignant cap to the first night of San Jose Jazz Summerfest and signaling that the event has become more urban.
Outside, earlier that night, First Fridays ratcheted up the scene with a street market of local artists, all combining their efforts with that of the jazz festival to create a diverse array of peaceful street-meets-elite awesomeness. Normally the opening night of jazz fest prioritizes the main stage, so one wouldn't get to witness an extra few thousand people flooding South First Street, but that's what happened.
Two stages bookended the street market. At one end, The Internet threw down a humble psychedelic soul-spirational set. At the other end were featured heroines The Wild Reeds performing a harmonious and polished set of folksy rocking glee. To crib a term from Rahsaan Roland Kirk, who wrote "The Inflated Tear," it was a bright moment of serious polarity. Everything blended together. Afterward, those inclined to rage into the night moved into adjacent nightclubs like the Continental.
All the while, Cafe Stritch unfurled its third annual Rahsaanthon, with Steve Turre spilling lurid anecdotes about the cosmic, near-mystical nature of Rahsaan's music. The entire first set still flows through my brain's reward circuitry: tunes like "Theme for the Eulipions," "Bright Moments," "Serenade to a Cuckoo," "Dorthaan's Walk" and others.
The jazz fest's brightest quality is that the spectacle isn't limited to just one precise nexus of events. It's more like a giant octopus with tentacles spreading out into the urban sea. The more sedentary types stay in the park for hours on end, while the more nomadic creatures tend to migrate about the landscape.
Just to cite one specific plan of attack: South First Street all day Saturday could have provided enough magic for many people. The Villalobos Brothers kicked off the day with Mexican folk stories on three violins, trap drums, bass and guitar and combined them with rock grooves, falsettos, pantomime and damning theatrical critiques of police brutality. Not too many minutes later, I slithered into the California Theater to catch the John Pizzarelli Quartet doing a Sinatra version of "Witchcraft" followed by Tom Waits' "Drunk on the Moon."
In another case, Bombay Jazz took over the California Theater with Indian ragas, east/west collisions and trans-hemispherical jams by four heavy hitters: guitarist Larry Coryell, saxophonist George Brooks, Indian bamboo flute master Ronu Majumdar and tabla virtuoso Aditya Kalyanpur. Directly across the street at Stritch, I found SJSU's Aaron Lington heading up 90 minutes of Burt Bacharach tunes. All of which helped solidify South First as a serious microcosm of the festival.
Over on Post Street, another, more gritty back-alley microcosm emerged via the Blues Stage and the Big Easy Stage. The Blues Stage, in particular, was located right where a blues stage should be: an alley surrounded by cracked cement, rusted drain pipes, nightclub litter, historical buildings, jewelry, crafts, halter tops, chicken gumbo and Ted Gehrke. Ted is a living legend in these parts. Any blues stage, at any festival, anywhere in downtown San Jose shall forever be inseparable from Ted Gehrke. There should be a law.
One didn't have to look very hard for more spontaneous microcosms, whether it was street buskers or artists painting murals in the park. For example, Bloco del Sol, some friends who perform Brazilian percussion, rehearsed inside the parking garage across San Pedro from Pizz'a Chicago. The thunderous, layered collage of drumming was so loud it could be heard all the way in Plaza de Cesar Chavez. The ensemble then led a parade that snaked all the way through the park to the other side.
As the fest drew to a close, the tears inflated even more, as James Carter's group presented a few sets of outre numbers at Cafe Stritch. I was sad to know it was all coming to an end.