Features & Columns
Serendipity in SoFA
Jazz Fest, South First Fridays Make an 'Awesome' Pair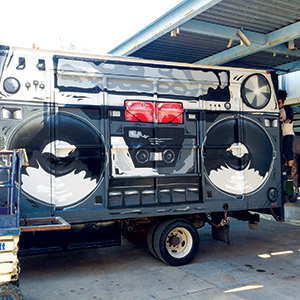 San Jose Jazz Summer Fest is in a continuous state of "becoming urban," in the post-Nietzschean sense. With each passing August, we see more examples of how the entire gala hoedown spectacular integrates with the daytime and nighttime goings-on of the local neighborhood.
This year, the South First Fridays art walk and street market just happen to coincide with the jazz festival, so the SoFA District experience will function as a microcosm of the whole fest.
In addition to several street-influenced urban art vendors, the market includes its own stage featuring, among others, Doug Ellington's N.U.G. (New Urban Groove). Ellington, of course, is the grandnephew of that more famous Ellington we all know so well. But it won't be big band stylings. This Friday, expect some serious improv grit and groove in pure urban fashion. And by fashion, I don't mean fashionable. I mean awesome.
Since urban youth these days use words like "ridiculous" and "sick" when they mean awesome, this Friday will see the debut of another sick and ridiculous project, the SJZ Boom Box Stage. A 28-foot box truck has been converted into a mobile stage unit by the folks at Method 42 productions. Street artist Mesngr then painted the entire thing to look like a 1970s boom box. They even cut a door into the side of the truck, which now lowers to become a stage with lighting and a built-in sound system. The truck even has San Jose Jazz mudflaps. On Friday, the acts in the SJZ Boom Box Stage include SONEX from Xalapa, Veracruz, who play son jarocho roots music fused with a melange of Afro-Latin stylings, including flamenco, salsa, jazz, funk, hip-hop, rock and reggae.
The complete SJZ Boom Box project is a work of collaborative awesomeness, but the most ridiculous aspect, by far, is that San Francisco Jazz actually donated the truck. Apparently they didn't need it anymore. It reminds me of a line from the celebrated Tom Lehrer tune, Pollution: "The breakfast garbage you throw into the bay, they eat at lunch in San Jose." Meaning, this is a primo example of recycled urban art, with local heroes creating a masterpiece from tossed-away garbage from the more famous city up north. Bravo!
And that's just two of the stages on South First Street. At the other end, we shall discover the new location of the Jazz Beyond Stage. Will Sessions and The Internet will both perform. That's just on Friday, though. Over the weekend, the Umpqua Bank Stage erupts inside the San Jose Stage Company, a dedicated theater space right smack in the middle of everything.
There's never been a Jazz Fest stage in that venue before, so it signifies the importance of SoFA even more. With all that music, this Friday's urban jambalaya will exhibit fractal self-similarity with the larger festival as a whole, especially with Cafe Stritch unleashing its third annual Rahsaanathon (see page 23). In other words, the more one zooms in on South First, the more that previously unseen details will emerge.
Oh, and did I say the entire rocking art walk that already takes place on the First Friday of every month will be unfolding, in, around and between all of the above-mentioned music? So when Anno Domini unveils Ken Davis and his sign-painting career, it belongs amid the jazz. In addition to galleries, restaurants and empty spaces, even TechShop will present Kent Blakey's high-design Eurasian aquarium show, "Microcosms." The title is perfect. I couldn't have programmed it better myself. This is the type of serendipity that happens when First Fridays coincides with Jazz Fest. It doesn't happen that way every year, so it's kinda special, you know?
All in all, Friday will be another example of how awesome things can really get when different institutions pool their resources and produce something greater than the sum its parts. Order emerges from chaos. Or maybe it's vice-versa. This Friday it'll be a little bit of both, I predict. It will be a Hot August Night for sure—but without Neil Diamond to enlighten us. When Neil finally plays the San Jose Jazz Summer Fest, then it'll be even more ridiculous. And super sick.