Features & Columns
Mosaic of the South Bay Comes to Life at Sangam Arts Events
Bollywood and Flamenco weave a fascinating tapestry of Silicon Valley diversity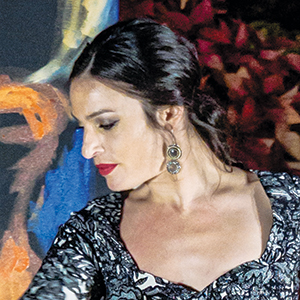 Vilas Nayak stands on an outdoor stage and paints a colorful image of the Hindu god Ganesha on a black canvas. Palm trees tower above him, jutting up into the nighttime sky. The stage is one component of a sprawling multilevel backyard landscape at a private Saratoga residence—a yard that looks more like a resort on the Riviera Maya.
Nayak wears leather pants while he works the canvas, exaggerating movements and painting strokes to the rhythms of a Bollywood tune blasting from the PA system. Nayak is here in town to paint for a large backyard crowd of 110 attending a fundraiser for Sangam Arts, a South Bay multicultural arts organization.
Flamenco artists take the stage after Nayak does his thing, and they provide a rousing performance. Timo Nunez and Fanny Ara sizzle on the dance floor together while Felix De Lola sings and David McLean plays acoustic guitar.
Between the Hindu painting and Spanish Flamenco, Sangam Arts President Usha Srinivasan takes the stage to explain Sangam's philosophy. Silicon Valley is not a melting pot, she says. Instead it's a salad bowl with numerous arts demographics and waves of immigration all enhancing one another rather than wilting in their cultural silos. Sangam aims to function as a crossover mechanism, Srinivasan says, a machine of connectionism, staging various performances that navigate routes between the silos.
The food at the fundraiser, like the performance, is half Indian and half Spanish—exactly the type of unapologetically impure mix I prefer. Surrounded by Saratoga millionaires, I scarf on mung bean salad, Spanish rice and Indian raita, while Bollywood and Flamenco continue to take turns on stage. The whole evening feels like a cross-stitch of various ethnicities embroidering themselves together, all without losing their original identities. Art is life and life is embroidery.
This is not my first experience with Sangam Arts. Some of their previous productions weaved many disparate threads into the same evening of creativity. In September, Sangam threw a fantastic production, Whirl Quantum Dance, at the Mexican Heritage Plaza. I could verge on Tolstoy-style verbosity in describing the show. But to keep things simple, Persian and Indian artists used contemporary Western and Sufi dance along with ancient Indian martial arts and digital video to embroider the similarities between how Western physicists and Eastern mystics understand reality. Hindu cosmology, astrophysics, quantum mechanics, the observer effect, Heisenberg's uncertainty principle, Jungian alchemy and Buddhist veils of illusion all contributed to a sparkling and original production. Director and choreographer Sahar Dehghan worked with a scientist at CERN in Geneva and experts in cosmology to create the whole shebang.
And just last week, the San Jose Museum of Art played host to the second installment of Mosaic Silicon Valley, a Sangam Arts initiative intended to activate the museum on specific Thursdays. This time the gig was called "Lost and Found: Forging a Future from Fragments," and it featured two performances.
Giulio Cesare Perrone, artistic director of Berkeley's Inferno Theatre, presented a dance performance called "Fragments from Quantum Love," which moved throughout the galleries and played off the thematic material in the art exhibitions. Vietnamese spoken word artist Fong Tran then gave a poetic and emotional performance about the problems of trying to break free from Vietnamese stereotypes. So far, the Mosaic Silicon Valley events have successfully attracted people who had never visited the museum or even downtown San Jose. This is probably what happens when you live in Saratoga, of course.
And speaking of Saratoga, after plowing through a few plates, I couldn't help but wander around the backyard. The deep blue infinity pool overlooked a fire pit. A cabana-style clubhouse included a kitchen to prepare food for the 110 people attending the fundraiser, all of whom gathered at circular tables and portable gas heaters, the kind seen at restaurant patios. Over at the other side of the property, a multilevel trellised garden area tumbled down a hillside, accompanied by a few stairways. The entire setting was a mosaic of sorts, a Spanish-style colonial hacienda with South Asian statuary everywhere—perfect for the evening's performances.
Back at my table, I explained to others that the cleaning lady at this property probably makes more money than I do, but, nonetheless, I couldn't help but feel blown away. I'd become a part of the mosaic. Silos are for suckers.