Features & Columns
Roadwork in Santa Clara Unearths Historic Railroad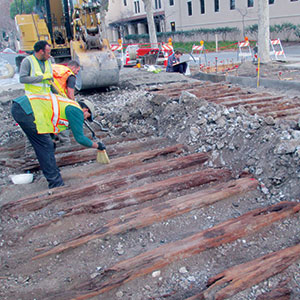 When Christiane Clark stumbled upon the destruction of old wooden railway ties beneath Franklin Street in Santa Clara, she thought of Berlin. Leftovers from San Jose's old Peninsular Railway system aroused her passion for local history, so much that the intersection of Franklin and Lafayette made her think of the book-burning memorial in Berlin's Bebelplatz.
Earlier this month, construction crews were working on the section of Franklin Street going eastward from Lafayette into Santa Clara University property. SCU recently purchased the street from the city in order to create a landscaped pedestrian lane that would accent some of the newer campus buildings. But as crews dug up the pavement, they discovered old wooden railway ties still buried underneath the asphalt, leftover from the old Santa Clara trolley line in the early 20th century.
Back during the Peninsular Railway era, electrified streetcars were the most common way for people to crisscross the valley. The line to Alum Rock Park was insanely popular, for example. Another line went all the way down Stevens Creek to Cupertino, passing through what was mostly orchards and farmland. Other lines went to Willow Glen, Los Gatos, and Saratoga. People who lived in the outer regions were often cannery workers or lumbermen.
The Santa Clara line was almost 9 miles long. According to an old 1924 schedule, it ran every 10 minutes, daily. Beginning at Franklin and Jefferson, the route went down Franklin, straight through what's now Franklin Mall, that is, past what's now Blinky's Can't Say and then eventually to the corner formerly occupied by The Hut before turning southward on The Alameda. From there, it proceeded to Santa Clara Street and then all the way to East San Jo, essentially connecting the nuns at Carmelite Monastery to the Alum Rock area. What a journey.
Toward the end of the '20s, though, trolley cars declined in both quality and popularity. After the rise of car culture and ever widening roads, the streetcar system finally died a natural death in 1933. That year the San Jose Mercury-Herald even ran an obituary equating the demise of the Peninsular Railway Co. to the loss of an old friend.
When Clark saw the construction crew inspecting the railway ties, she immediately suggested a great idea. Instead of discarding them, why not leave the ties in place and then when repaving the street, install glass portholes allowing people to look down through the concrete at the ties. This is similar to the book burning memorial in Berlin, at which a glass plate is set into the concrete—the site where the Nazis burned books in 1933—allowing pedestrians to look down into an empty underground library of sorts.
Unfortunately, the construction crew working on Franklin Street was instructed to rip out the wooden ties altogether. They were not even saved.
Clark emigrated to the U.S. from Germany, where she once lived in a house more than 400 years old. She eventually wound up in East San Jose, where she spent the past 40 years of her life and developed an interest in local history, including the old trolley line that ran out of Alum Rock Park.
"I loved walking in Alum Rock Park and admiring all the left over trestles from the trolley," she said in a recent phone call. "When we moved to San Jose in '68, for me to attend San Jose State, there was even still the swimming pool out there."
Clark now lives in Santa Clara but remains in tune with Alum Rock Park history. She has a framed painting of Penitencia Creek on the wall at her house.
"When I wake up, I'm looking at Alum Rock Park," she said. "So I'm very connected."
All may not be lost, however. As Franklin Street continues into SCU, much of the pavement still remains, under which might exist more old railway ties. Clark thinks a memorial should be implemented, allowing people to gaze through the ground and into what lies below.
"Just think of all those students that could look down and say, 'What's this?'" Clark said. "When I was there the last time, there was two blonde young women, one from L.A. and one from Wisconsin. And I said, 'Do you know what was here?' They had no idea. They were students. They walked right by."