Features & Columns
Street Party Viva CalleSJ Returns
for Second Year
The second annual Viva CalleSJ will successfully shut down six miles
of San Jose streets for a free, open-streets adventure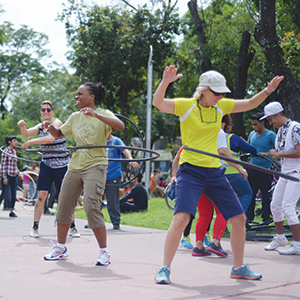 This Sunday, the second annual Viva CalleSJ will successfully shut down six miles of San Jose streets, closing them off to automobile traffic for a free, open-streets adventure of the highest order. This is not a race, a protest or a riot.
The goal is to create a temporary autonomous zone where anyone can ride bicycles, walk, skate, scamper, saunter, play music, do yoga, sell art, dance, or explore the urban fabric however they want.
Most creative or curious people understand that the least interesting way to experience San Jose is from a car, so Viva CalleSJ is a fantastic idea. It's an event that opens up the streets for everyone to trip around, at their own pace and leisure, and become one with the streets, experiencing pieces of San Jose or businesses they might never see otherwise. Viva CalleSJ brings normally disparate parts of the city together, helping to alleviate the soul-crushing alienation and apathetic sloth caused by decades of suburban sprawl, albeit for a few hours.
Several city departments, private sector groups, and philanthropic organizations all spent much time, effort and/or funds to pull the whole thing together. Angel Rios, director of the city's Parks, Recreation and Neighborhood Services, says his department's focus for the future is not limited to providing parks, community centers and trails. A larger issue prevails here, that of connecting people to people, and San Jose neighborhoods to other San Jose neighborhoods. Viva CalleSJ falls right into such a master plan.
"It's an opportunity to take some time off, open up some streets and do something nontraditional, and remove some of the barriers that exist, that keep us from looking at our city," Rios told me. "There's a lot of barriers that keep our neighborhoods separate. What Viva CalleSJ does is remove those barriers and lets people recreate on their terms, and have fun the way they want to have fun."
In the process, people from different areas of the city, as well as different parts of the social and economic spectrums, can meet each other. In fact, during last year's debut Viva CalleSJ, many attendees said things along these lines: "I've lived in San Jose for years and never even knew this neighborhood was here." The isolation that suburban car-culture sprawl instills in people is profound. Viva CalleSJ breaks that spell just for a few glorious hours, resulting in thousands of citizens discovering their city in a brand new light. The word 'recreate' becomes 're-create.' And that's what life is all about.
But this is not an extremist political stunt forced down everyone's throat by anti-automobile activists. Nor is it anything like a "road diet" that NIMBYs incessantly bicker about for months on end. Rather, it's a community-centric event inspired by similar open streets initiatives in Guadalajara, Bogota and other cities around the world. The name combines the Spanish viva calles, which can mean either "the streets live," or, "long live the streets," or both. The interpretation is yours, like poetry. For some, there's also a French aspect to the experience, at least if you know the word flâneur, basically, a romanticized wanderer of sorts, an artist-poet who simply strolls around, observing the populace from a detached perspective.
Viva CalleSJ offers a different route each year, and this year's expedition is even better than last year's: "From the West: Glen Meets Zen" will bring participants through Willow Glen, Burbank, downtown and behind the Shark Tank, on through to Japantown. Or you ca n go the other direction. There's no beginning or end. You can start anywhere and go as far as you want. That's the whole idea. As part of the process, some of San Jose's most iconic neighborhoods and their business associations will each supply their own respective parties in the streets, involving barbecue, sushi, yoga, bike safety lessons or tours of neon signage along San Carlos. One can't think of a better way to promote San Jose to its own residents, or even to non-locals, than Viva CalleSJ.
"It's about connecting people to people, and people to San Jose,"
Rios said. "It's as simple and organic as that."