Features & Columns
'She Who Tells a Story'
at the Cantor Arts Center
Middle Eastern female artists take down gender stereotypes in 'She Who Tells a Story'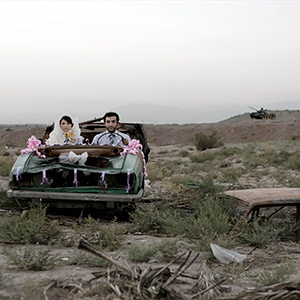 At the Cantor Arts Center, I mistake bullets for sequins. A thousand of them, in fact. From across the gallery, a large triptych, 5 1/2 feet high and 12 1/2 feet tall, a set of three chromogenic prints on aluminum, stretches before me.
In the work, a woman lies apparently sleeping on a bed of sequins. Behind her, a wall of still more sequins backdrops the scene. Sequins are falling throughout the piece, but as I make the approach it turns out the sequins are silver and gold bullet casings.
In this piece, Moroccan-born Lalla Essaydi, a former painter who lives in New York and Marrakech, creates what looks like a 19th-century Orientalist painting but is actually an inspiration to explore her own cultural identity and her fears about the growing restrictions on women following the events of the Arab Spring. In the triptych, Bullets Revisited #3 (2012), she uses calligraphy (a typically male art form) to suggest the complexity of gender roles within Islamic culture. Thanks to the bulleted imagery, violence just drips from the work.
Originally organized by the Museum of Fine Arts, Boston (MFA), this major new exhibition at the Cantor Arts Center, "She Who Tells a Story," presents the work of 12 leading women photographers from Iran and the Arab world. Some of them still live in the Middle East, while others have moved on to Europe or the US. In its entirety, the show ridicules Western stereotypes and preconceptions of Middle Eastern women through 79 photos and two videos, all exploring issues of identity, narrative, representation and the brutality of war in daily life. The show endeavors to end the belief that women from this part of the world are oppressed and/or powerless.
When curator Kristen Gresh originally orchestrated the show in Boston, the text panel informs us, she encountered an Iranian artist who warned her that focusing on a group of women photographers was "alarming" because it would confirm the stereotype of Arab and Iranian women as "oppressed and powerless." On the contrary, Gresh writes, the photos on view do just the opposite—they ridicule and dismiss that viewpoint, suggesting we reassess our preconceived notions.
"She Who Tells a Story," comprised almost entirely of photographs from the last 10 years, unfolds in across three main sections—Deconstructing Orientalism, Constructing Identities, and New Documentary—although most of the work blurs all three of those categories.
For example, Shirin Neshat, an Iranian born in 1957 and living in New York, overlays her photos of women with Persian scripts and/or Farsi poetry from contemporary women writers, created to evoke the role that empowered women played in the upheaval following the Iranian Revolution in 1979. In one case, a woman holds her hand over her heart, but calligraphy covers her body and face. In another instance, a woman's text-covered hand, raised to her closed mouth, implies a strong voice. "In Iran women are quite powerful, unlike their cliched image. What I try to convey through my work is that power," says the text panel.
In another section we see hysterical photos from Shadi Ghadirian's 1998 Qajar series, in which she depicts women in various forms of the hijab (headscarf), but while posing with western images like boom boxes, Pepsi cans and dark shades, or backdropped against imagery of banned books. One senses a ridicule of the polar opposition of West/East, tradition/modernity, or intimacy/distance.
In Women of Gaza (2009), photographer Tanya Habjouqa, a Jordanian born in 1975 who lives in East Jerusalem, recorded the experience of women in Gaza living with limited freedom. Taken over a span of two months, the images convey modest pleasures, including a picnic on the beach, a rest on a bench between university classes, or an aerobics class.
Many events related to the exhibit will unfold over the next few months. On March 5, George Washington University professor of anthropology Attiya Ahmad will discuss the photos through the lenses of gender, feminist studies and her scholarship on the Middle East. And on March 19, three of the artists—Boushra Almutawakel, Tanya Habjouqa, and Rania Matar—will participate in a panel discussing their contributions to the show.