Features & Columns
SiliGone Valley Podcast Documents Region's Disappearing History
Christopher Garcia is Silicon Valley's high-tech laureate of loss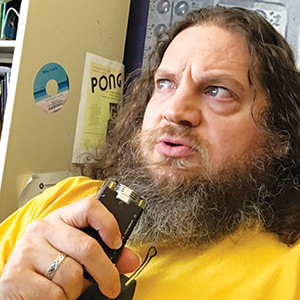 Christopher Garcia is Silicon Valley's high-tech laureate of loss. Everything from his youth is being destroyed by progress in the valley, so he decided to start talking to other people about their losses as well.
To a degree, Garcia is already a rogue historian of Silicon Valley's vanishing past. By day he works as a curator at the Computer History Museum in Mountain View. On the side, he podcasts about wrestling history and art history. But like many valley natives of his generation, Garcia began to realize that most of the memorable places and buildings from his youth have disappeared. So it was time for another podcast. One aptly titled SiliGone Valley.
For example, Garcia's birthplace, the old Kaiser Hospital in Santa Clara, was demolished, and eventually supplanted with townhouses. The old Santa Clara City Library, where Garcia spent his youth in the children's section, was likewise obliterated and replaced with a new library.
It doesn't stop there. The site of Garcia's first kiss? Gone. His first heartbreak? Gone.
He asks in his first-ever SiliGone Valley podcast: "How do we celebrate Silicon Valley as anything more than where all of our apps come from? And how do we make this place and its history mean something?"
The idea to start a new podcast came from a few different trajectories of influence. For one, Santana Row's murdering of the Century Theaters brought back memories. On another front, Garcia says his mother also talks about how everything from her youth has been destroyed.
Garcia agreed to leak a few details as to what we're going to hear during the first several podcasts, some of which will be online by the time you read this. The Edge nightclub in Palo Alto, for example, was a rocking music venue. Garcia has many memories there.
We'll also hear interviews about the old Town and Country Village, where Santana Row now sits. The shopping center had long since deteriorated into a rundown scrappy relic, but many people have rocking stories, especially about the first Chuck E. Cheese's Pizza Time Theatre that Nolan Bushnell of Atari fame created. For my non-native readers: You can't tell the story of Silicon Valley without Pizza Time Theatre.
Frontier Village will be another topic. No matter what circle of people happen to be yakking about the creation and destruction of ideas, places and memories related to this valley, someone will eventually chime in about Frontier Village. This necessitates a podcast, Garcia says.
Following that lead, Lou's Village, the legendary restaurant on San Carlos where Lucille Ball and countless others rolled in with their entourages for decades, will likewise get an episode. Fifty years ago, Lou's was at the forefront of old-school banquet-room social life, long before most restaurants thought about doing such things.
All of this is why I'm excited about Garcia's podcast. He will cover the upmarket stuff and the lowbrow stuff. You'll hear about dive bars and luxury digs. Hotels and dumps. Punk rock and high tech. Exactly the mystical combination of opposing forces that has always defined and characterized Silicon Valley, at least from my perspective.
Thankfully, though, nostalgia wallowing is not the point here. Garcia is not trying to relive the past. Instead, he's revisiting the past, knowing that Silicon Valley is a constantly changing place. He aims to celebrate the poignant slices of life that have been yanked away from us over time.
"I don't want to be the guy screaming that everything was better yesterday," Garcia says. "What I'm hoping to do is get people's reactions about what sites in Silicon Valley meant to them, and then get to the idea of what Silicon Valley means to people today. By getting people's stories out of them, find out why they love certain things. Then we can really find the definition of what this place means."
With a huge non-valley-native population, many people simply aren't aware that anything ever happened here aside from the tech industry. What's more, Garcia says, all of us can help.
"We are, right now, a location that has one definition, and that's technology," Garcia says. "But there's so much more here that gets subsumed into that one idea."
To listen to the SiliGone Valley podcast, go to podcastgarden.com/podcast/siligonevalley.