Features & Columns
Silicon Alleys: Al Preciado Sets Up His Last Solo Show at The Citadel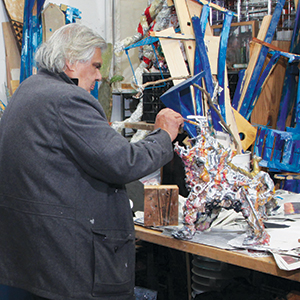 Al Preciado is a retrospective kind of dude. A decades-long fixture in the San Jose art community and now into his 21st year of teaching at Bellarmine, he often sells his work at South First Fridays or paints canvases in front of Kaleid Gallery during the summer months, usually with his students or proteges.
The late Harry Powers showed him the ropes decades ago, and now Preciado passes the baton by teaching younger artists what he knows.
This Saturday, Preciado's latest solo show, a retrospective of large landscapes he painted mostly this year, unfolds at the Citadel Gallery, from noon until midnight. A warehouse-style building on Martha Street, the Citadel features more than 70 artist studios in addition to the gallery. Outside, Preciado tells me he knows every single crack on the sidewalk. Inside, everything is cold, off-white and almost prisonlike, but the gallery, a large open room with magnificent lighting and 20-foot-high ceilings, has for years been one of San Jose's best exhibit spaces.
"It's a very New York-style gallery," Preciado tells me. "It's the biggest space, I think, in San Jose except for the Museum of Art, and it really shows off the artists' work well. I'm a DIY kind of guy, I find that this space fits perfectly with my work because it's especially large and not tiny, so it's the best space for me because I feel like I need this kind of space to really show off my work at its best potential."
With Preciado, the stories never stop. Decades ago when attending SJSU, he says his office was at House of Pizza. The old location, he clarifies. Now at Citadel, Preciado stages retrospectives almost annually, but as we enter his studio, he claims this Saturday's show will be his last major solo exhibit.
His studio is exactly what anyone would expect: sculptures, plants, paint-spattered rugs, haphazard shelving, ancient buckets filled with brushes and art supplies, coils of bailing wire, canvases leaned up against each other, piles of milk crates high up on a shelf, scattered piles of tools, portraits of women, newspaper clippings, books crammed into a corner, plus sordid photos, sketches and even more piles of canvases jammed between everything else—all in glorious, beautiful chaos.
As we talk, two high school boys are helping Preciado clean out his studio in preparation for the show. One is from Bellarmine, the other Valley Christian. It is here that Preciado stores many of his smaller sculptures, intricate abstract compositions of foil, plastic, tape and wire. Preciado first rented a studio at the Citadel for the last half of the '80s, then returned about five years ago.
"It used to be cowboys and Indians, really Wild West," he says. "There was a lot of parties and things like that. Then they made things a lot tighter. It's more like a corporation. It's hard to get in here unless you have keys, and I feel a lot safer in this environment. It's nice, my side of the building; there's less artists so it's more quiet. I really enjoy that, because especially at night it's great to work."
Preciado's work is instantly recognizable to any longtime denizen of the local arts scene. He spent years painting the female form, including many images of ballerinas, but now he focuses on landscapes. He spent much of this year hanging out in San Jose parks, painting the greenery and the surroundings. Speaking with nuanced finality, Preciado goes back and forth as to whether this show is really indeed his last hurrah. Nevertheless, a show like this with many large canvases requires serious physical effort. He's getting older and it takes a long time to haul around a bunch of large works and then set them up for display in a huge gallery. At this point, he'd rather pass the baton to the next generation.
"Emerging young artists, it's their ball game now," he says. "I'll be happy to mentor anybody that needs it, because I think that's what you should do, as Harry Powers did with me when I was younger. He mentored me and made me realize what I had to do to make a show happen, so I'll always be thankful to him for that."