Features & Columns
Silicon Alleys: Anti-Man About Town Revisits the Highlights From a Year's Worth of Columns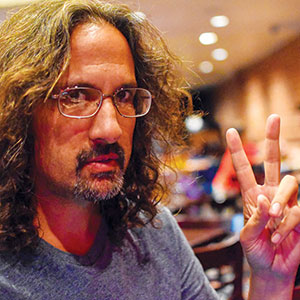 To paraphrase Leonard Cohen, newspaper columns often begin with an appetite to discover my self-respect. To redeem the year. So the year does not go down in debt. They begin with that kind of appetite. So as we put an end to the 2019 Silicon Alleys campaign, it is once again time for the field commander to reflect on his most resonant columns of the previous year.
This page in 2019 began and ended with a humbling combo of self-reflection and gratitude. I started the year off by contemplating all the crazed party houses from my college days and then finished the year with Kristi Yamaguchi. In the first case, I reiterated that all phenomena have arisen due to the coming together of previous phenomena. My past was not wasted. I didn't squander anything. Likewise, watching Kristi's program provides underprivileged kids with access to books was an uplifting experience. Had I not grown up with books and libraries beginning at age 2, I would have turned into a criminal. That's not hyperbole. It's the truth.
Another theme returning to this space was the death of small independent businesses in the wake of gentrification and vile real estate syndicates. Right alongside the growth of the artificially overvalued real estate cult known as WeWork, the original co-working company NextSpace couldn't innovate enough to stay alive. Its downtown San Jose office was the stuff of legend, one of the few remaining places at which to find funky independent-minded entrepreneurial types downtown, amid a once-colorful interior.
Longtime heroes Death Before Dishonor Tattoo met a similar fate after coming to loggerheads with their landlord. Thus a truly unique Buddhist-metal-punk-yoga-skateboard crossover vibe is sadly no more.
Perhaps resonant with an even larger variety of folks, my two-column historical biopic on the Cactus Club allowed readers to relive some heinous gentrification and grotesque landlording from decades past, the detrimental aftereffects of which continue to plague downtown San Jose. This town just never seems to learn from its mistakes and I don't think it ever will, to be honest.
All of which drove me to re-explore some of the old neighborhoods that we still have left in San Jose; that is, before they succumb to the condo-pocalypse and convert to banks and gyms for tech workers and their $25 artisan pickle salads. The Spartan-Keyes neighborhood got its due once again, as did the rocking stretch of San Carlos Street connecting Just Leather to Miss Careful, a stretch I renamed the Melrose Avenue of San Jose's underbelly.
And speaking of Miss Careful, San Jose's most famous billboard, the decades-old masterpiece outside Diamond Laundry & Cleaners is finally getting restored. With real estate syndicates gradually destroying all the eclectic pieces of San Jose, it was heartening to see Miss Careful come back to life again.
Since the local microcosm mirrors the international macrocosm, and since travel is what turned me into a writer in the first place, I will never stop traveling and writing. Especially now with a long overdue emergence of emphasis on local artists and unique-to-Silicon Valley creativity, I found it imperative to report from the road about a few scenarios inseparable from the San Jose area. Metro readers probably didn't even know that SJSU graduate Mark Grey is now an established opera composer. Over six years in the making and running two hours and 40 minutes, Grey's debut opera based on Mary Shelley's novel Frankenstein completed a nearly sold-out run of eight performances at La Monnaie, Belgium's federal opera house in Brussels. I was the only American journalist in attendance. And I still miss that neighborhood.
As if that weren't enough, Thierry Amsallem was part of the original team that first demonstrated Apple Quicktime 1.0 at the San Jose McEnery Convention Center nearly 30 years ago. I did not know this when he showed me around the Montreux Jazz archives at the Swiss Federal Institute of Technology in Lausanne (EPFL). It didn't come up until we had espressos at the new Montreux Jazz Cafe on that same campus. Synchronicities have always played a dominant role in this column. Any of my longtime readers know this.
That said, allow me to say the best is yet to come. Happy New Year.