Features & Columns
Silicon Alleys: De Saisset Opens Revamped 'California' Exhibit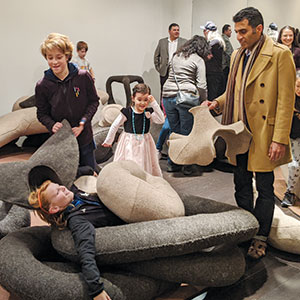 On stage at the De Saisset Museum, a Jesuit priest drinks champagne with Ohlone tribal members. In the audience, I hit the caprese skewers. Dozens of others congregate to celebrate a new permanent history exhibition downstairs at the De Saisset, California Stories from Thamien to Santa Clara.
Several years in the making, California Stories successfully updates and reimagines the dimly lit frumpy old Cali history exhibit that sat downstairs for a few generations. Now the exhibit dedicates much more space to Ohlone heritage, in addition to Mission period history, Californio lifestyles and events from the very beginning of Santa Clara College, as it was then called.
On the same night, local sculptor Stephanie Metz is opening a wonderful exhibit, InTouch, featuring large surreal objects of industrial wool and felt, glorious in their biomorphic awkwardness, pieces anyone can wear, carry or throw around the room. For years people have wanted to touch her work, but they were denied. Now anyone can partake.
At the moment, though, the Ohlone have the stage, right next to the 29th president of Santa Clara University, Kevin O'Brien, decked out in standard priestly attire. The opening VIP hoedown seems to bring everyone together. Board members, trustees, art scene veterans and their families all gather 'round to partake.
Word has it the Ohlone descendants were not terribly keen on the previous version of the Cali history exhibit, since it barely mentioned the original natives. They were right. Now it's much better. In fact, the VIP reception is so crowded that we have to split up into various groups before heading downstairs to view the new exhibit, which is indeed a serious improvement. I see displays about Ohlone life, history, language, basket-making, hunting tools and more.
In another room, various historical artifacts occupy glass cases. I don't remember if the 19th-century sword of Don Luis Maria Peralta was here last time, but now it is. I also see maps and various objects related to the history of Mission Santa Clara, including its previous locations.
While local history serves a purpose, so does an assemblage of large felt sculptures that one can pick up, wear, sit on or toss around the gallery space. In a polar opposite scene from 100 VIPs lumbering downstairs for some good old-fashioned text panels, at 7pm the warped Dada LSD insanity of InTouch by Stephanie Metz turns everyone into 5-year-olds.
In most cases, people are not allowed to touch the art in a museum. This time, however, it's a hands-on experience. Kids, parents, board members, musicians, newspapermen and every walk of life dives in—literally—to piles of industrial felt objects Metz diligently created just for this purpose. She designed each awkwardly sized sculpture so that anyone can interact with it however they want. The room looks like someone raided a furniture store, cut up all the desks and end tables, then covered them with felt, before dumpster diving outside a Bed, Bath & Beyond in order to create discarded creature parts from a Dr. Seuss book. Some of the objects seem straight from a French surreal film circa 1925, while others look like giant doorstops from a warehouse receiving dock or something from an H.P. Lovecraft story.
The original Dadaists are probably smiling from their graves. At the opening, people walk around with sculptures on their heads, transforming themselves into pelicans or pirates. Parents shoot videos of kids crawling in, out, around and through other sculptures, that is, when they aren't tossing objects around the room or combining the sculptures into a larger work. Children scamper every which direction. The only thing missing is the Benny Hill theme blasting at 78 rpm. It is that crazy. And fun.
Even better, InTouch functions like a kooky psyops experiment targeting introverts. One can immediately tell which people, mostly adults, are too embarrassed or just plain scared to let their inner child run wild and partake in the fun. Meanwhile, all those who've wanted to touch Metz's work in the past can now do so. What a concept. The gallery experience is thus flipped on its head. I am becoming one with the awkward objects, and I feel touched.