Features & Columns
Silicon Alleys: Displaced Columnist Has Co-Working Man's Blues
NextSpace colleagues met last week for a final gathering before the co-working office closed for good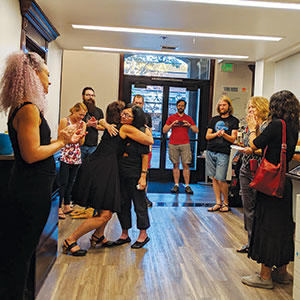 As of this Saturday, NextSpace Coworking in downtown San Jose will bite the dust, putting an end to eight years of authentic community building. I say "community" because at NextSpace, that word meant more than anything.
NextSpace first opened in Santa Cruz in 2008, then added spaces in LA, San Francisco, San Jose and Berkeley, pioneering the concept of co-working in its original form, years before that term was culturally appropriated by shiny obnoxious companies like WeWork and thus transformed into a ludicrous buzzword.
When NextSpace started, it exemplified an idealistic if not utopian dream to unite disparate demographics so they could feed off each other, support one another, collaborate, swap professional ideas or simply find common life hacks. It was all about community. A food entrepreneur could collaborate with programmers, while a fledgling roboticist might pool resources with a UX designer. If your startup didn't need a whole office, you could rent a small corner and maybe even discover other people at NextSpace who wanted to join your team. Freelancers of any sort could roll in with a day pass and make new friends or potential clients in the process. The community manager functioned as a human connection machine, the glue that fused everyone together.
In San Jose's case, the NextSpace office in its original state didn't feel or look like anything else downtown, making it a refreshing place to hang. Even though most of the co-workers were tech-related, the vibe was nothing resembling bro culture. Beginning in 2011, the atmosphere was intentionally informal, bohemian and goofy. Orange and blue color schemes abounded. Beautifully incongruous couches, carpeting and homemade wooden tables highlighted the open spaces. Artwork by neighborhood artists graced the walls. Local non-profits rented spaces, classical musicians played during happy hours, female coding groups held meetings and disgruntled city employees dropped in to spill all the gossip.
On any given day, one became privy to financial advice presentations, entrepreneurial classes, artisan coffee tastings and numerous partnerships with local establishments. Everyone in the downtown business community either floated through to say hello or at least knew someone at NextSpace because there was no other joint like it. Former members always stopped in when they came back through town. This was precisely the point: community. It had nothing whatsoever to do with obnoxious corporate monoculture.
Unfortunately, as is the case with many freewheeling idealistic schemes in downtown San Jose, obnoxious corporate monoculture eventually won. With the rise of squeaky clean bastions of pretense like WeWork and the generation of culturally illiterate techies who love them,
NextSpace wasn't making any real money, anywhere. A few years ago, the company was circling the drain for the last time when a sterile syndicate of bean counters named Pacific Workplaces saved it from certain death.
While the Santa Cruz and Berkeley offices still embody some of the original NextSpace spirit, such was never the case with San Jose after Pacific Workplaces took over. In my view, they ruined the color scheme and the goofy accoutrements by making everything gray and beige. They dumbed down the work culture, stripped away all the personality, crushed the vibe, disregarded the community manager and squandered all the goodwill established by NextSpace. It was sad and depressing to witness.
So, to reminisce and bid each other adieu, NextSpacers threw a tear-jerking final party inside the San Jose office last week. Former members from years ago stopped in and said their farewells. Food and drink overflowed. Stories came out of the woodwork. There was nothing but love in the room.
In contrast—and perhaps this is the closing irony of it all—at the same time, right up the block, a vacuous fabricated pop-up space called Backyard SJ, one of the most obnoxious flauntings of corporate artifice to hit downtown in recent memory, was duping everyone into giddy states of faux-urban euphoria. Somewhere between a phony trade-show-floor environment and a bad hipster patio bar transplanted onto a parking lot, the space featured big ugly cardboard cylinders and wood chips all over the ground, as if someone went dumpster diving outside the set of Hee Haw. BackYard SJ comes to us from—you guessed it—WeWork.