Features & Columns
Silicon Alleys: Cafe Stritch Pays Homage to 'Cosmic Patron Saint'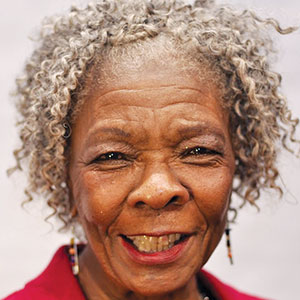 Dorthaan Kirk, the grand matriarch of the annual Rahsaanathon at San Jose's Cafe Stritch every August, was recently the recipient of a National Endowment for the Arts Jazz Masters Fellowship, the highest accolade our nation bestows upon jazz artists.
Each year since 1982, the program has recognized a select number of living legends whose exceptional contributions to jazz have made the USA a better place. Dorthaan was given a fellowship alongside Bobby McFerrin, Roscoe Mitchell and Reggie Workman to complete the 2020 class. In Dorthaan's case, she was awarded the A.B. Spellman NEA Jazz Masters Fellowship for Jazz Advocacy.
Dorthaan is the widow of Rahsaan Roland Kirk, the cosmic patron saint whose music, energy and spirit propel Cafe Stritch through thick and thin. This weekend will be the seventh annual Rahsaanathon and the seventh time Dorthaan has flown out from New Jersey to attend. She considers San Jose to be one of her extended families, so we got to talking.
When Stritch launched the first Rahsaan tribute gigs in August 2013, no one, especially Dorthaan, knew it would turn into an annual party, with Rahsaan's former bandmate Steve Turre flying in every year.
"It's created new listeners of Rahsaan, and exposed his music to people that probably, maybe in that area, never would've discovered him," Dorthaan told me. "Also, it brought out people who actually saw him in the Bay Area many, many years ago. So because of that, it's kept his music and spirit alive. And I'm sure a lot of people have discovered who Steve Turre is, who's kept [Rahsaan's] music alive for 40 years."
Over the last seven years, Turre has recruited some of the best players to re-create the spirit of Rahsaan at Cafe Stritch. When Dorthaan first showed up in 2013, she was skeptical. But they convinced her.
"I was very nervous the first year because Steve was using the West Coast musicians, and I didn't know them," said Dorthaan. "I was frankly nervous that they were going to be able to play [Rahsaan's] music as I know it should be played. Even though Steve had sent them the music ahead, they didn't have a lot of time to rehearse. I remember coming into the club that first time and saying, 'All right, you all better get it right.' I just kind of slyly said that. But I was amazed, really amazed, at how they nailed his music."
What's different nowadays—for good or bad—is that the Rahsaanathon no longer erupts during the San Jose Jazz Summerfest. For the few years it did, Stritch became the prime gathering joint where other living legends would show up or sit in, following their gigs elsewhere at the festival. In 2015, for example, jazz-rock fusion guitar hero Larry Coryell played a gig at the California Theatre and then afterward showed up at Stritch, where Steve Turre even acknowledged him from the stage. Sadly, we never saw him again, as Coryell passed away in 2017.
Another year, Dorthaan and I were sitting outside Cafe Stritch when Latin jazz trumpeter Jerry Gonzalez, likewise a living legend, just happened to come sauntering over. Within seconds, he and Dorthaan got to talking, the conversation spinning through 40 years' worth of stories and memories. Everyone knows Dorthaan. Sadly, Gonzalez died in a tragic house fire last year.
Rahsaan's music, though, has not passed away. His spirit will forever inhabit 374 S. First St.
"I'm amazed, because Rahsaan's been dead over 40 years, and his music still goes on," Dorthaan said. "And I don't know any musician—Sue Mingus was doing something, and there's always some activity around T. S. Monk—but there's not a lot of musicians who are no longer with us whose music is still being perpetuated as Rahsaan's is. So it's all good."
NEA fellowships aside, the Rahsaanathon remains an event that diehard fans look forward to every year, both Stritch regulars and those on the periphery.
"It is truly a bright moment, what they've done there," Dorthaan said. "Their dedication and support of Rahsaan and his music is kind of overwhelming, and I applaud them for continuing to do this event."