Features & Columns
Silicon Alleys: Jazz Phantoms
A few good wraiths linger at Garden City, once a bastion of creativity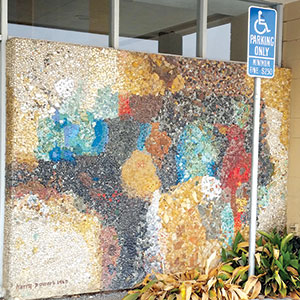 Abandoned buildings remind me of maritime treasures. They're like wrecked ships buried in plain sight.
Navigating the former Garden City Casino parking lot and its environs at Stevens Creek and Kiely boulevards, for example, seems like an ancient seafaring expedition. One can sail the seas of ruin, accompanied only by the ghosts and their stories.
I have summoned the ghosts of this plaza in previous columns, but as the capitalist onslaught of Halloween products is already upon us, let me begin with the concept of Hauntology. Over the decades, everyone from postmodern philosophers to dub musicians have articulated Hauntology as phantasms persistently infiltrating the current from the past, displacing the concept of time.
According to Wikipedia, the term was applied to musicians exploring "ideas related to temporal disjunction, retrofuturism, cultural memory, and the persistence of the past." I still identify as a musician, so I'll say San Jose is a postmodern place where fascinating threads of time and history often dissolve into mass blandness—especially when one remains here for any length of time.
The Garden City parcel, for example, contains so many ghosts, it's hard to fit them all into one column. Whatever gets built on top of this land will be haunted forever, hopefully in ways that give the conniving developers a serious case of karma coughs.
When one first enters this crumbling landscape, the old, shuttered Bank of the West building, a mid-century classic, appears first. The building features an amazing and intricate Harry Powers mosaic, Vibrant Galaxy, a massive 1963 artwork tediously constructed with stone and glass tesserae in concrete. A crane was needed to install the 7-by-9-foot artwork 57 years ago.
Someone should make sure Vibrant Galaxy gets rescued. Powers was a colossal figure in many San Jose circles for more than half a century. He taught and influenced generations of artists. Just like the subject of Henry Miller's book, The Colossus of Maroussi, Powers was the Colossus of San Jose, and also a very nice guy.
He is not the only one haunting this landscape, of course. Garden City itself was the legendary casino and jazz club inspired by San Jose's nickname in the old days. Decades ago, before the San Jose Jazz Festival even existed, the pianist Smith Dobson helped run the most popular jazz series in town on Sunday evenings at Garden City.
In my late teens, between music theory classes at West Valley College, I took an amazing jazz history class that required to me to infiltrate gigs and write about them. At the time, none of my metal or punk friends understood jazz, so my mom agreed to take me there. The bar and restaurant were in the front of the place, where jazz fans wolfed down steaks and martinis. The gaming tables and casino area filled up the rest of the premises.
I was too young to gamble legally, but I witnessed several amazing gigs and I remember typing some two-page reviews of Garden City shows with Smith Dobson on the ivories. The bar at Garden City is also where my aunt first met her husband, around that same time.
Being a piano player myself, those classes and that club are probably a part of why I decided to continue with a music education. These days, the music is simply redirected via newspaper columns. It all worked out.
I guess it's another building that naturally flows through my bloodstream, yet another crazy way that familial history merges with music history and the physical history of the landscape. If one contemplates San Jose in this way, culturally and creatively speaking, the city becomes far more interesting.
Like Harry Powers, Smith Dobson is sadly no longer with us, but his amazing talents will haunt whatever gets built on that property. His son occasionally plays gigs at Cafe Stritch, if you lurk in the shadows often enough.
Until the whole Garden City parcel turns into something else, in whatever decade that finally happens. Until then, I will keep with the ocean metaphor. I shall sail these seas guided by the spirits of Harry Powers and Smith Dobson. May their stories continue forever.