Features & Columns
Silicon Alleys: Memories of Failed 'Jeopardy!' Tryouts Return with Champ's Appearance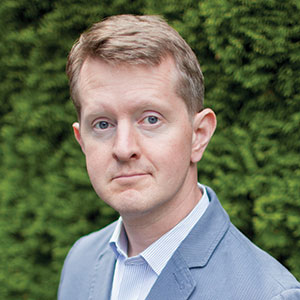 In 2004, Ken Jennings became the hero of trivia nerds worldwide by winning 74 games in a row on the TV quiz show Jeopardy! Next Tuesday, June 12, he appears in conversation at Kepler's Books in Menlo Park.
Like Jennings, I grew up watching an inordinate amount of game shows and was a full-blown trivia nerd in elementary school. I knew every baseball stadium in the U.S., every world capital and tons of rock trivia. The very presence of Ken Jennings in Silicon Valley takes me back to 1999 and 2000, when I tried out for both Jeopardy! and Rock & Roll Jeopardy! during one of the more desperate times in my life.
Here's what I remember: Late 1999, I took an 8am flight out of San Jose, wearing a gray sportcoat, a black dress shirt and a wild Italian tie. I nearly missed the 6am alarm I'd set because I was among those who'd closed Cinebar at 2am. Yet somehow I woke up, got dressed and eventually landed at LAX at 9:04am, completely still drunk from the night before. I was going broke and determined to win $40,000 or whatever it took to get me out of San Jose forever.
At LAX, I asked an old German lady at the information booth to find out which shuttle took me outside the terminals to the street buses. From there, I caught the No. 6 bus, which went straight up Sepulveda Boulevard toward Culver City. At Washington Boulevard, I transferred to the No. 1, which took me right to Sony Pictures Studios, the home of Jeopardy! and Wheel of Fortune. I was the only person dressed up on either bus.
By then, it was nearing straight-up high noon, and there was nothing in the vicinity except a lonely strip mall, where I luckily found a Thai restaurant. After a plate of spicy larb gai and two Singha beers, I wandered over to the side entrance of the Sony complex. This was L.A., and normally everyone drove, so I was a rare pedestrian walking through the gate and into the mega-campus. Various studios and buildings comprised the whole of it, but I knew where to go.
Outside the studio, I sat there on a green bench, where a crowd of maybe 20 others were congregating and also waiting to take the initial Jeopardy! test. One guy was flipping through a World Almanac, attempting to study. Another lady was going over some geography notes she had conjured up beforehand. Then a plastic SoCal Baywatch-looking dude rolled up in a motorized cart and instructed us to follow him down to Studio 16, where they filmed the show. Like lambs to the slaughter, we obliged.
Inside, we sat in the same chairs where the audience normally sat during a taping of the show, and we were given worksheets to answer the upcoming questions. A slideshow of Alex Trebek played on the screen, explaining what was about to happen. We were then bombarded with 50 questions in 13 minutes, with only a few seconds to write down each answer before the next question appeared on the screen. Whoever answered 35 out of 50 advanced to the next round of vetting. Stuff like: Who was nicknamed the Desert Fox? What country is bordered only by Russia and China? What French phrase, literally meaning "bottom of the bag" refers to a short, dead-end street? Cyrano de Bergerac was in love with who?
In the end, I didn't answer 35 questions correctly. It's much more difficult than watching it on TV.
That was December of 1999. One year later, I took the same trip to L.A. and failed all over again while trying out for Rock & Roll Jeopardy! I knew which band John Entwistle joined in 1962, a question many sitting next to me didn't know at all, but I couldn't answer a damn thing about Oasis. Once again, I came home rejected and forlorn.
Ken Jennings commands a staggering amount of knowledge, but, fortunately or unfortunately, by the time he came onto the scene in 2004, I had a newspaper job and a different life. I could write about laundromats, gas stations or the blighted wastelands of my hometown&151;a much more trivial pursuit.