Features & Columns
Silicon Alleys: King Library Bookstore a Trove of Random Titles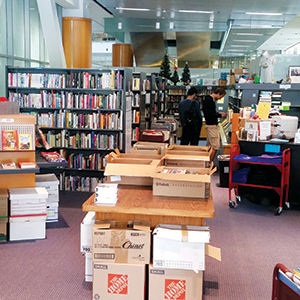 Last week, I sauntered into the Friends of the King Library Bookstore on the SJSU campus, just as I'd done on a regular basis for years. But this time, the cosmic muse of synchronicity exploded right off the table in front of me. A book I recall a professor purchasing 20 years ago was sitting right there in the middle of the store, on the sorting table, atop a stack of books he'd apparently just donated.
Tucked into a corner space on the ground level of the Dr. Martin Luther King, Jr., Main Library in downtown San Jose, the Friends of the King Library Bookstore satisfies the definition of a "hidden gem." Located near the campus-side entrance, this little place is jammed to capacity with thousands of books, most of which come from donations. Professors clear out their offices, students trade in their old literature, libraries regularly supply their discards, and people from across the entire city show up with boxes of books. In one case, a small indie bookstore went out of business and donated its entire stock. Stuff comes in every single day.
The bookstore is a browser's dream. Soft-covers are $2, hardbacks $3. At the back, one finds a wall of 50-cent mass-market paperbacks. It's a wonderful store to find cheap classics, contemporary novels, crime, politics, nonfiction, obscure European history, sports, foreign language books or any random rotating selection of oddball contributions.
Just perusing the recent donations can be half the fun. One day you might see a cart filled with Flaubert, Zola, Stendhal, Genet and Balzac—all donated by someone that specialized in French literature decades ago but was just now getting rid of the books. The next week you'll see a box of commercial hardback fiction that Recycle Books apparently wouldn't take, so the person dumped them here instead. At any given moment, there might be old computer manuals, cookbooks or antiquarian travel guides. Students occasionally find what they need for classes, due to the failure of the entire textbook ecosystem across America.
About a year ago, I spotted what looked like a small collection of Asian studies—history, travel, politics, philosophy and anthropology—perhaps from an estate clearance, but all formerly owned by a deceased Ph.D. who left notes, letters and 40-year-old hotel receipts from India stuck in some of the books. Rifling through that collection was like stepping into a Michael Ondaatje novel. It was fantastic.
Of course, all of this is totally random, so on any other given day, you'll see only a donation of throwaway James Patterson crap or medical books about ear, nose and throat remedies. But all in all, Friends of the King Library Bookstore enlightens me whenever I visit.
Speaking of which, in the center of the store, a table exists where the all-volunteer staff sorts through the new supply. When I ambled in last week, an SJSU physics professor I briefly knew in 1997 had apparently just parsed out the shelves in his office. I saw piles of scientific books about nonlinear dynamics, complexity theory, solid state physics, liquid crystals and emergent behavior. In 1997, I took a class of his on chaos theory, because at the time I was diving deep into its metaphorical applications--that is, how nonlinear systems might relate to creativity, Eastern thought, Taoism or Jungian synchronicity. I was reading a book called The Tao of Chaos: DNA & The I-Ching, and it was interesting enough for the professor to want a copy for himself, since he seemed to own every book even remotely connected to the subject. I distinctly recall, in 1997, walking across campus with him on his way to Spartan Bookstore so he could purchase a copy of that book.
Last week, that same exact copy of The Tao of Chaos, the one he purchased in 1997, was sitting there atop of the supply of books he'd donated to the Friends of the Library Bookstore. I felt like a deeper truth beyond the limits of Western thought had revealed itself: the Tao, so to speak. In other words, I had not wasted my life by remaining in San Jose all these years. Stories are always guaranteed to emerge from nowhere, and I can now finish this column.