Features & Columns
Silicon Alleys: Montalvo Exhibit Uses Fiber Art to Explore Human Connection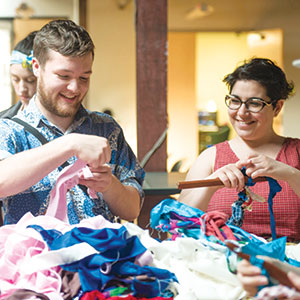 This Friday evening, Montalvo Arts Center will launch an exhibit of textile and fiber art installations, "Threads: Weaving Humanity," to kick off its annual outdoor summer program, "Art on the Grounds," embroidering a powerful array of social and global themes, both literally and metaphorically.
In most cases, works of textile art are sensitive to the elements, so they tend to be presented indoors, in highly controlled environments rather than be subjected to the weather outside, but with "Threads," this is not the case. Each international artist designed his or her work to interact with Montalvo's natural surroundings. The works weave, stitch, mend, braid and embroider the threads of our collective humanity, highlighting the practices of compassion, empathy, forgiveness and self-reflection.
"We had been wanting to do some work in textiles for a long time, on the grounds, and each year we look to take on a theme that feels close, and near and dear, particularly to our resident artists," said Kelly Sicat, director of Montalvo's Artists Residency Program. "And this question of humanity, this question of cultural understanding, feels top-of-mind for people. So it was an opportunity to look metaphorically at textiles, at threads, at their fragility as well as their resilience, and think about humanity in that kind of way."
To that end, Bangladesh-based visual and performance artist Yasmin Jahan Nupur will embroider a large-scale multi-panel fiber installation on the front lawn, incorporating jamdani, a centuries-old weaving technique. In the Montalvo gardens, Sudnya Shroff of Los Altos, an international artist who works with the global refugee community, will create a rainbow-like environment comprised of hundreds of feet of yarn and 6,000 flowers crocheted by refugees. Guatemalan textile artist Hellen Ascoli will create a caravan of flowers comprised of saddlebags handwoven from threads of recycled clothing and draped over pieces of furniture. San Jose's own Modesto Covarrubias is one half of RoCoCo, a duo that will install a sculpture on an empty pedestal at the base of Montalvo's lawn to replace a work long since lost.
The practice of weaving and the use of embroidery as metaphors for humanity brings back some wonderful dimensions of history and context. The Dada artist Jean Arp and his wife, Sophie Taeuber collaborated on a series of experimental cross-stitching projects to represent their lives together, as artists and partners. They weaved their journeys into works of art. Their past weaved into their present, so to speak.
In the opposite sense, because the fiber works at Montalvo will exist outside, they are created with the understanding that a natural and ultra-gradual process of decay will unfold, due to the passing of time, and due to the sun, rain or whichever element of the weather pervades, exemplifying the impermanence of everything. Buddhist prayer flags function in the same way.
The opening festival Friday evening, from 6-9pm, will feature not just a chance for viewer/participants to experience the textile installations, but also an opportunity to see collaborative performances and interactive events orchestrated by Sangam Arts, a nonprofit connection machine providing a platform for ethnic arts groups to collaborate with each other. For Montalvo, Sangam has curated several ensembles including San Jose Taiko, Calpulli Tonalehqueh Aztec Dancers, Xpressions Indian Folk Dance, Yang Yang Chinese Dancers and NewGround Theatre Dance Company.
However, this is not just one more multicultural survey of arts groups just for the sake of being multicultural. Viewer/participants will be able to interact with most of the ensembles and with the textile artists, turning the whole event into a power-networking art-community soiree of sorts, demonstrating how art resonates across cultural divides, encourages others and extends insights to people of global cultures as an expression of our common identity. At the end of the evening, all the ensembles will join together in a 14-minute grand finale.
"The process of bringing all these people together for an extended period of time, we're hopeful that—and we've seen this happen before—we create connections between these groups that will go on and grow fruit in the future," said Sangam Arts President Usha Srisnivasan. "That's the whole idea behind it: so people can identify very discernible threads that run through all of the different cultures."