Features & Columns
Silicon Alleys: Montreux Archives Hold Tens of Thousands of Hours of Music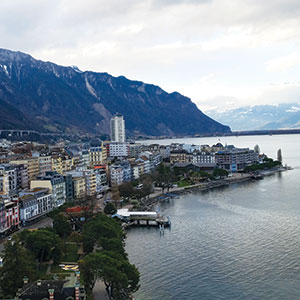 Last week, Thierry Amsallem laughed out loud while telling numerous stories about the Montreux Jazz Festival. When he gave me a tour of the Montreux Jazz digital archives on the campus of the Swiss Federal Institute of Technology in Lausanne (EPFL), his laughter evoked a true passion for all things Montreux and all things music.
"Montreux is a live recording studio with an audience," Amsallem said, emphasizing how the festival has regularly pioneered advances in audio and video recording technology. Claude Nobs launched the festival in 1967. Amsallem came on board 20 years later while still in grad school.
As he continued to tell stories, a mystical coincidence soon emerged. Neither I nor the fixers arranging our interview knew that Amsallem was among those who presented Apple Quicktime 1.0 at the San Jose Convention Center in 1991. His group helped test Quicktime by using it for a Montreux Jazz kiosk project. Similarly, Amsallem did not know in advance that I was from San Jose. Synchronicity thus drove my experience, as is often the case when I visit Switzerland. Carl Gustav Jung would be proud.
Nobs started the festival to promote a resort village on the shores of Lake Geneva, unaware that it would explode into one of the most iconic musical ecosystems on earth, resonating far beyond jazz or Switzerland. Montreux was the first live concert environment to utilize multitrack audio recording (1973), hi-def video (1991), 3D video (2010) and 4K (2012) before those technologies went mainstream.
Today, 28 years after Amsallem helped beta test Quicktime 1.0 at Montreux, he remains a part of the ecosystem, helping oversee the Montreux Jazz Digital Project, the most ambitious plan to preserve music I've ever seen. As of today, something like 11,000 hours of video recordings, 6,000 hours of high-quality audio and 80,000 photos have been digitally preserved since the project began in 2010.
"In 1967 people asked Nobs, 'Why record with video? Music is just for your ears,'" Amsallem told me with a laugh. "Even today I have people laughing at what we're doing."
Following Nobs' passing in 2013, Amsallem created the Claude Nobs Foundation in order to sustain his legacy and continue the digital project. At that time, the archives were recognized by UNESCO and inscribed in its "Memory of the World" registry.
"UNESCO came with Obama's help," Amsallem said. "He really wanted to preserve jazz. And Hillary wrote a letter."
He then opened up the back of the server cabinets, a must-see for any tech geek. To store 50 years' worth of concerts, five petabytes on three server racks are cooled by water from Lake Geneva. Dozens of fans are also piled up, eight feet high, along the backs of the servers.
"It's noisy and consumes energy, but we want to keep the archive alive," Amsallem said, laughing. "This is how we keep it alive."
We then moved through even more areas off limits to the general public, spaces where EPFL students and researchers work on the archives. From here, audio and video are streamed to a handful of chic Montreux Jazz Cafes in places from Paris to Abu Dhabi, where patrons can literally scroll through 50 years of concert footage. Other researchers are working on various projects including an interactive 3D family tree allowing anyone to see which musicians jammed with who else over the last half century at Montreux. Also in the works is an autonomous vehicle prototype that supplies concert acoustics and video footage, transporting the cafe experience into a car.
"If you're not driving, what else are you going to do?" said Amsallem, laughing. "Watch concerts."
Later, over espressos in the Montreux Jazz Cafe on the EPFL campus, Amsallem told the story of the legendary "Swiss Movement" live LP that Les McCann and Eddie Harris recorded at Montreux in 1969. Ahmet Ertegun of Atlantic Records bought the tapes for pocket change and the LP sold millions, putting Montreux on the live recording map.
"It was great promotion for Montreux," Amsallem said. "A world of artists then wanted to play here. Now bands want to come here to be a part of UNESCO."