Features & Columns
Silicon Alleys: Band's Repertoire
has Strong Links to Steinbeck
Folk-pop superstars Mumford & Sons are this year's recipients
of SJSU's annual Steinbeck Award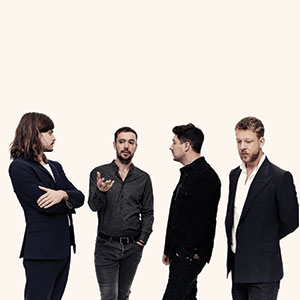 John Steinbeck is bigger than any radius clause. When British folk-pop superstars Mumford & Sons receive SJSU's annual Steinbeck Award on Sept. 18 in a celebration at Stanford's Bing Concert Hall, the event will not conflict with their arena gig the following night in San Francisco.
Many threads have converged to bring Mumford & Sons to Stanford University. In the fall of 1919, when John Steinbeck was 17 years old, he began a six-year period of in-and-out enrollment at Stanford. He dropped out and returned several times, never caring to complete a degree. Since this year marks the centennial of when he first showed up, the Steinbeck Center at SJSU is partnering with Stanford on numerous fronts.
Each year the Steinbeck Center presents the illustrious Steinbeck Award, celebrating musicians, writers, documentarians, thinkers, artists and activists whose work embodies the empathetic spirit and values of John Steinbeck. The award is a large affair, usually presented in an auditorium or theater venue. Previous recipients include Bruce Springsteen, Rachel Maddow, John Mellencamp, Ruby Bridges and Ken Burns. This year the award goes to Mumford & Sons not just because they've written songs inspired by Steinbeck but also because they've demonstrated a serious commitment to social engagement through their Gentlemen of the Road project, a charitable fund they founded in 2006 to support global and local charities fighting for social justice. Tickets go on sale this Friday for the Sept. 18 award ceremony at Bing, which includes a conversation with the band members as well as an acoustic performance.
"We've been tracking Mumford & Sons for some time now, starting with their Railroad Revival Tour," said Ted Cady, who previously booked SJSU's Event Center for decades before retiring to become the Steinbeck Center's senior curator of events. "From our perspective, that tour seemed like a truncated version of Travels with Charley, only with musicians on a train, sweeping from California to New Orleans, and all the country between."
Steinbeck likewise sweeps all through the Mumford & Sons repertoire. East of Eden appears in their song "Timshel," while The Grapes of Wrath inspired their tunes, "Dust Bowl Dance," and "Rose of Sharon." They also do a haunting rendition of Springsteen's "The Ghost of Tom Joad." And when the band's 2012 small-town tour brought them straight into the heart of Steinbeck country, band members Ted Dwane and Marcus Mumford took part in a panel discussion in Monterey led by Marcus' older brother, the scholar-philosopher James Mumford. They also performed at a Steinbeck tribute concert.
On the night following the Stanford gig, Mumford & Sons play the shiny new upmarket Chase Center in San Francisco, which would normally trigger promoters to implement a radius clause destroying any competing gig in Santa Clara County, but that didn't happen. Steinbeck would have despised such vile behavior, so maybe it was his ghost looking out for the South Bay. In any case, the band has a longstanding history with Steinbeck's material.
"They're super familiar with Steinbeck's work," said Steinbeck Center Director Nick Taylor. "And they're on the young side for recipients of the Steinbeck Award, but I would say that they're as familiar, or more familiar, with Steinbeck than any previous recipient. I would never suggest that anyone knows more than Ken Burns about anything, but for rock stars, they sure are literary."
It doesn't stop there. Thanks to a few years' worth of conversations between Taylor and Stanford English Prof. Gavin Jones, proceeds from the Mumford & Sons award gig will help support a new project, the Steinbeck Service Fellowship. Since both universities teach a class devoted entirely to Steinbeck's work and since students therefore study the same material and the same criticism, SJSU students will be able to collaborate with Stanford students to devise their own service projects inspired by Steinbeck's work, all to continue his legacy for compassionate community engagement. One hundred years after Steinbeck walked into a classroom at Stanford, his legacy remains intact and stronger than ever. New generations are picking up where he left off.