Features & Columns
Silicon Alleys: One Man's Eyesore is Another Man's Local Character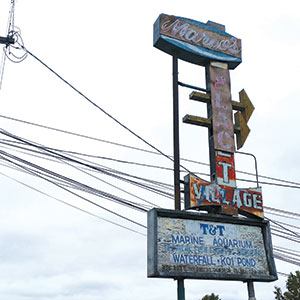 Years ago, the Urban Blight Exploration Junkie often relapsed on this very page, reporting from crumbling eyesores like Hacienda Gardens Shopping Center, the industrial wreckage of Stockton Avenue or the aromatic tire-shop wonderland of Keyes Street.
In the latter case, the junkie last explored this thoroughfare 10 years ago, but failed to elaborate on the cross streets that link this stretch of underbelly all the way to downtown. So allow me to rectify this predicament immediately.
First, some background: At least 20 years ago, the city was already drawing up philosophical schemes to expand and gentrify the downtown core southward down First Street and westward along San Carlos, some of which is now starting to happen. Meaning, the next few years might provide the last opportunity to explore the gloriously incongruous neighborhoods between 280 and the celebrated Burger Bar roadside masterpiece at First and Keyes. I'm mostly talking about the leftover commerce along First and Second streets, but any such journey also includes glorious tentacles of decaying industry that expand outward from those streets.
This whole part of town might seem like blighted throwaway trash to any high-falutin' real estate crook, but it exudes more character than any other neighborhood near downtown. Every facade is totally different, a throwback to the days when street level retail was still interesting to look at— that is, before the city started foisting all this homogenized faux-luxury crud on the rest of us.
Although a casual drive-by might suffice, any legit exploration of the area must be done on foot. You need to slither in, around and between the wreckage.
Of course, there are ghosts, or djinns, as the Sufi mystics might suggest. In this neighborhood, the physical and the temporal aspects of San Jose seem to merge, as old buildings—just like spirits—often appear out of nowhere, even after the real estate crooks have attempted to gentrify them out of the way.
Fifty years ago, for example, the legendary bar and restaurant, Arturo's Quiet Village, occupied the building still standing at 950 S. First St. In recent years, the building housed T&T Aquarium and Koi Pond. Two distinct and truly wondrous crumbling old signs—one on First Street, the other at the back entrance on Second Street—provide all the intrigue you need to get started. On each sign, pieces of Quiet Village still peek through from half a century ago, while the more recent layers designating the aquarium are likewise decaying with the wind. Those two signs, together, are a microcosm of the whole neighborhood. They refuse to die.
Right next door, at 940 S. First, one finds Bruce Barton Pump Service, a family business going back nearly a century in the same building. You don't often find this stuff in San Jose.
In this neighborhood, everything crashes into everything else. Furniture stores fade into humble Mexican eateries. Rusted barbed-wire and cracked parking lots accompany businesses you wouldn't notice unless you went looking for them. Industrial yards left over from decades ago still remain, even as hipster breweries encroach down the block. In places, knee-high weeds rise from ruptured parking strips and Banda music blasts from car stereo installers. A yoga studio, a vaping place or a Vietnamese-owned auto repair business might appear, again, seemingly out of nowhere. And tire shops are ubiquitous. Just walking the sun-baked streets, you can smell rubber from the tire shops, motor oil, marijuana smoke and amazing carnitas cooking at some unidentifiable place.
Unfortunately, there's always a dark side to these journeys. These areas can be dicey at nighttime. On certain corners, low-rent hookers lobby the downtrodden johns of the underworld. Back alleys, while supposedly cleaned up over the last decade, still occasionally recall the dismal drug-addled character of downtown in the '80s.
What does it all mean? I'll tell you. As soon as the real estate syndicates succeed in gentrifying the downtown core with overpriced restaurants, banks and ping pong tables, the ignored-for-decades street riffraff will seek refuge near First and Keyes instead. That's right—First and Keyes might be the new First and Santa Clara in about 10 years. Chalk it up to progress, San Jose style.