Features & Columns
Silicon Alleys: Photog Gets Inspired by Graffiti, New Baby for 'Proof I'm Gone'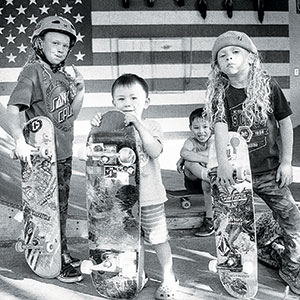 Last week, the illustrious international crossroads of Fifth and Jackson in Japantown played host to a new photo show by Jai Tanju at The Arsenal.
Titled Poof I'm Gone, a phrase inspired by graffiti Tanju found in defunct railyards behind the San Jose MarketCenter, the exhibit also celebrates the cyclical nature of death, life and rebirth, and their effects on the photographer and the gallery observer/participant. To accompany the exhibit, a Poof I'm Gone book is also available.
What sets Poof I'm Gone apart from Tanju's previous work are the personal beginnings and endings that characterized his life in the process. He shot all the photos from Aug. 28, 2018 to Aug. 28, 2019—from the day his daughter Bibi was born until exactly one year later. Just before the birth of his daughter, though, Tanju's dog Frida passed away at age 15, and then his gallery space, Seeing Things Gallery, came to an end after several years on San Carlos Street.
"There wasn't much time to mourn for either with the birth of Bibi," Tanju said.
However, with a new child sometimes in tow as he traversed the landscapes of San Jose, Tanju could no longer operate as an impromptu street photographer with the freedom to simply jump around and capture images on a moment's notice. As a result, his daughter brought an additional perspective to the imagery, regardless of whether or not anyone can see the difference in the final photographs, all of which exemplify what Tanju has become known for: the gritty underbelly of San Jose and the everyday people one finds between the cracks of society. We see skateboarders, homeless people, graffiti, cheap supermarkets, discarded toys and odd building facades, but with a new spirit of rebirth.
"Looking at the book from the beginning you can see there is a definite feeling of life, joy, death and the future, our city, too," Tanju said. "Holding on very tightly but letting go at the same time. And as the book goes on, it loosens up as I feel the reins loosen up a bit, so I can be more creative. It ends with Bibi's birthday and the fact that we made it through alive, even if we are totally worn out both mentally and physically."
At the opening reception, families, kids and pets all congregated to enjoy the photos and browse goods at The Arsenal, a gallery and art supply shop. In the front area, one finds exhibit space plus an ample retail operation with sketchbooks, brushes, pens, pencils and paint sets, plus affordable crochet works, painted wine bottles and various crafted pieces. A folding Japanese shoji screen separates the front area from the back room where the classes are held amid a milieu of lockers, easels, spray paint, hanging artwork, piles of paper and a chalkboard listing available classes. The Arsenal used to be located on The Alameda before it moved to Japantown, where the business is now set to grow even more.
"It definitely felt right doing the show at The Arsenal because we always felt akin to them and had each others back when we were doing Seeing Things," Tanju said. "I love the fact that they have done so much, are thriving and are expanding."
Tanju's former space, Seeing Things Gallery, had a long history of triggering zonked Jungian self-analysis within the newspaper columnist's own predicament. In 2012, back when the space was located on Third Street, right next to the now similarly defunct San Jose Rock Shop instrument retail space, Tanju staged a show of old-school punk rock photography that psychologically fused with the easy listening songbooks I found next door, inspiring me to harmonize those two conflicted halves of myself—the punk half and the easy listening half. So that's what I wrote. The ancient alchemists would have been proud.