Features & Columns
Silicon Alleys: A New Hope
Race Street looks desolate at first glance, but it's earned a second look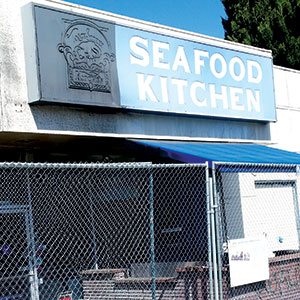 The stretch of Race Street between The Alameda and San Carlos Street is a yin-yang fusion of melancholy and hope, a microcosm of everything wrong and right about San Jose.
Normally on a street like this, the urban blight exploration junkie falls off the wagon with no positive outlook whatsoever, finishing his column with a tidal wave of despair. This time around, hope sprung eternal.
During a masked-up walk amid some textbook San Jose devastation, he saw much to celebrate in these turbulent times. Even as some businesses had fallen by the wayside, others were doing their darnedest to adapt, pivot and forge ahead.
After scoping out a Murderer's Row of decimated local history, including the perished Race Street Fish and Poultry and the fenced-off barber shop next door, both of which looked like corpses left to rot in the sun for years, the junkie felt inclined to upload photos of the wreckage to his personal Facebook account. He did not expect the onslaught of comments, many of which came from people who hadn't lived there in years. Though Race Street Fish and Poultry was gone long before Covid-19, the visuals fit the pandemic era perfectly.
Several commenters chimed in with poignant memories, things like: "Every crab I ate came from Race Street," "Another great mom 'n' pop gone," or "They would smoke a bird for $15, best way to buy duck." Others fondly recalled the rabbit, the clam chowder and the Christmas goose.
For many, Race Street Fish and Poultry had defined their childhood.
"I was raised on that market's food," said one person, whose first job was with a software startup in a rented house nearby. Another person offered: "We lived around the corner on Yosemite, early '70s, once saved a chicken that got loose from Race St., made it a pet."
Such uplifting responses inspired the junkie to get clean and see the light. As he shifted his gaze up and down the block, he saw hope and promise in the form of La Fashion Hair & Nails, which had migrated its business out onto the sidewalk during the Covid-19 era.
Many salons are not equipped to do this, but some are making a go of it. In this case, two ladies with masks and face shields occupied stations underneath a regulation-certified sidewalk canopy. Across the parking lot, masked customers waited underneath another tent. The place was loud and the voices carried. Life had returned.
Just up the street in either direction from the dead Fish and Poultry operation, several other businesses had discovered ways to reopen, carrying on however they could. Crema Coffee, located in the space formerly occupied by a Cuban restaurant, featured a crystal-clean patio, allowing anyone to sit down far enough away from anyone else.
Las Cazuelas, a fantastic Mexican restaurant, likewise offered an outdoor patio. Some of the tables were six apart while another selected few were 20 feet off in the distance, allowing for more isolation should customers desire such a thing. Large foliage separated a few of the tables, providing a tropical vibe and a gloriously haphazard, non-cookie-cutter feel, all in epic contrast to the blasť piles of housing planned for the other end of the street.
What's more, Las Cazuelas still served up some of the best chips and salsa anywhere in these parts. Inside, just like Crema, the restaurant offered all the hand sanitizer a junkie could ever want.
And how could anyone leave out Art Boutiki, normally one of San Jose's best live-music spots? These days, a unique and swanky back patio experience can be found Thursday through Saturday, certified and legit.
As he continued to navigate the environs, the junkie saw even more local businesses trying to make things work: Rex Cleaners. Mexico Lindo. Hill's Flowers. Taqueria El Dorado. All of these joints grinding ahead with heroic perseverance. The way they soldiered on through the setbacks deserved applause.
In Zen fashion, the simple things in life are what fill this junkie with gratitude. Now he doesn't need to end his column with despair.