Features & Columns
Silicon Alleys: Reflecting on the Anniversary of Anthony Bourdain's Untimely Death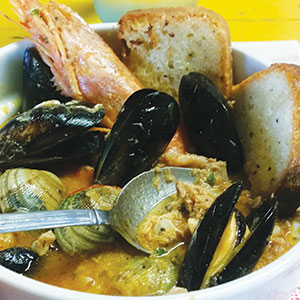 One year ago this Saturday, we were dining on a tiny island near Grado, Italy, when we heard the news that Anthony Bourdain had passed away. It happened all of a sudden.
At the northern fringe of the Adriatic Sea, we had sailed up to a petite forested island in a small skipper boat just after lunchtime on June 8 to visit Fiuri de Tapo, an outdoor seafood restaurant. Nothing else was on the island except the restaurant and the proprietor's house, all reachable by sailing through a lagoon from the touristy hotspot of Grado, an island community two miles away. Fiuri de Tapo translates to "Flowers of Cork," after a lavender flower that blooms all over these scattered islands.
As we ventured into the outdoor seating areas, remnants of a tempest-like storm earlier in the morning dropped sporadic blankets of drizzle from the sky. Due to the weather, our group had been the only ones on the water and we were likewise now the only people in the restaurant. We were the lunch rush. Numerous picnic tables of yellow, green and blue sat empty. Their umbrellas were closed up and tied down with rope. Wind-blown leaves and twigs, plus a few trails of mud footprints complemented the overcast skies.
Within moments, the proprietor emerged from the kitchen wearing a black scarf over his head, a sweatshirt with the sleeves cut off, and a pair of blue shorts. Andrea Barchiesi was a Shakespearean "mine host," jubilant and full of life when talking about the business he built from scratch with his bare hands. He built the restaurant and even constructed a fish farm. He and his family live on the island during the high-season summer months.
As we sat down to plow through bowls of seafood soup that Barchiesi also made from scratch, a family of swallows chirped away in a nest above our table, right where the side of the building met the overhang. The birds circled in and out of the scene, on the lookout for any mosquitoes that might ruin our meal.
A menagerie of clams, mussels, crayfish and other amazing dead things I couldn't identify all floated in the soup, along with fresh sourdough bread that soaked up the bronze liquid in slow masterful fashion. Two bowls did me in.
Then we heard the news that Anthony Bourdain had committed suicide. A person in our group found out by scrolling through some notifications on his phone. Two or three of us, maybe four, responded with words like: "Huh?" "What?" "You sure?"
Silence then occurred for several seconds. Only the swallows continued to chirp.
If there ever existed a tribe to which I belonged, Bourdain was its leader. No one else would walk through the jungles of Vietnam wearing a Ramones shirt. He was one of my heroes, a travel writer of the underbelly, an international anti-man-about-town opening up the underside of the world for millions of fans—exactly the type of dream I only imagined when I first started writing 20 years ago, back when I longed to escape what was then a more bland version of San Jose. I never achieved that dream, and even today, with any type of writing life hardly lucrative to say the least, it's easy to give up. Now here was Bourdain, a renowned punk celebrity with an empathetic conscience to elevate stories of underrepresented people around the world—a dude with everything I ever wanted—and yet he still gave up.
So I walked out to the edge of the property and stared at the lagoon. The water looked glassy and eternal. The sky was clear and the storm was moving far away. No matter who died, the Adriatic Sea would always be here.
Knowing that Bourdain would have loved Fiuri de Tapo, I owed it to him to spread the word and I owed it to Anthony to carry on. I couldn't quit writing, no matter how miserable life became. Bourdain was up there, down there or somewhere, cheering me on. Others remembered where they were when JFK, Elvis or Joey Ramone died. I'd now forever recall Fiuri de Tapo as where I learned Anthony Bourdain had passed away.