Features & Columns
Silicon Alleys: San Jose Chamber Orchestra's Season Spans Venues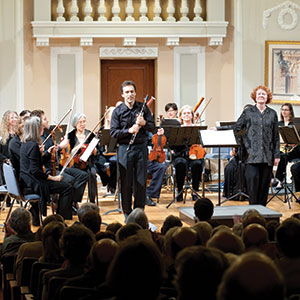 At the piano, Maestra Barbara Day Turner of the San Jose Chamber Orchestra is accompanying violinist Rick Shinozaki inside the Schiro Gallery on the fifth floor of the main library, adjacent to the Beethoven Center at SJSU. Passages of musical consonance seem to bookend "non-note" sections of noise and cacophony.
For downtown San Jose's Noon Arts & Lectures series, Turner is previewing the chamber orchestra's 29th season—in particular, a violin and piano reduction of Durwynee Hsieh's "Memoir of an Ordinary Man," which premieres this Sunday. Hsieh is present to help answer audience questions about the piece. I'm in the back row of the classroom seats, just like I often was in college.
Turner says Hsieh's piece needed a home, so this weekend is the right time to premiere it. Over the last 28 seasons, the San Jose Chamber Orchestra has premiered 180 works by contemporary composers, both local and from out of town. And in case anyone's confused, "contemporary" means still alive. Current. Right now. A piece that came out in 1940 is not "contemporary music."
As such, the orchestra's philosophy since its inception has been to prioritize the works of living composers, not just dead Western Europeans. This is important, especially in a town where most classical music enterprises and their lumbering old-school patrons still bludgeon to death the same repertoire from 100-300 years ago, a ridiculous attitude that never really existed until the 20th century came along to unleash the advent of recording technology and more adventurous musical philosophies. By comparison, in the Baroque era of J.S. Bach or the Classical/Romantic eras of Beethoven's life, there was no such concept as only performing works by dead composers from a few centuries earlier. In fact, in Beethoven's day, it was quite likely that no one had even heard of J.S. Bach, simply because his music wasn't being performed anywhere. Which is why, on a San Jose Chamber Orchestra program, you'll almost always see a premiere by a contemporary composer in the mix with more traditional pieces. This has been the case for 28 years now.
In more diplomatic language, Turner explained all of this during the presentation. And her description of Hsieh's piece as "needing a home" was apropos because the chamber orchestra finds itself in a similar predicament after recently losing its years-long home at Le Petit Trianon. The new property owner, out of sheer un-Christianlike cruelty, booted all the local arts non-profits out of the building with almost no advance notice—even those under contract—so the orchestra lost its offices and its main performance venue. As a result, the orchestra was forced to scramble and switch its entire 2019-20 calendar to various venues all over Santa Clara County. This proved to be extremely difficult. The dates of the concerts were booked out far in advance. Soloists had signed contracts at least a year ahead of time, which included getting flown in for specific dates. Likewise, many working union musicians had already booked their calendars for the season. Subscriptions and tickets were already in the pipeline, and finding new venues with the same dates open became nearly impossible. But after some brutal legwork, the 2019-20 season is now set in stone. The season opener this Sunday goes down at the Santa Clara University Recital Hall. In addition to Hsieh's "Memoir of an Ordinary Man," the program includes Telemann's "Don Quixote Suite." What a combination.
So for the time being, the orchestra remains without a permanent home venue. Another performance during the upcoming season will be at the California Theatre with sjDANCEco, another with eight cellos and orchestra inside the San Jose City Hall Rotunda, plus gigs at Mission Santa Clara, McAfee Performing Arts Center in Saratoga and 3Below Theatres & Lounge.
What's more, the orchestra's office has now found a temporary home inside the old Valley Title Building at First and San Carlos, right next to the new San Jose Jazz offices. The baby grand piano that used to reside at Le Petit Trianon now sits in the office lobby. So the orchestra has at least a few years to contemplate its next move. Nothing will seem ordinary from here on out. Maybe that's a good thing.