Features & Columns
Silicon Alleys: Quakes Player Becomes League's Top Scorer as Team Alum Enter Hall of Fame
San Jose Earthquake Chris Wondolowski celebrates setting a new goal-scoring record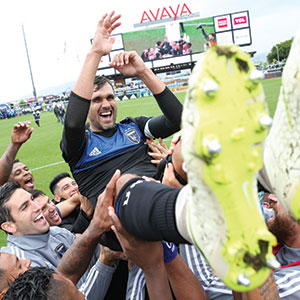 Last Saturday, multiple generations of San Jose Earthquakes players, fans and alumni got to witness American soccer history as Danville native Chris Wondolowski shattered the league's all-time goal-scoring record on a rain-soaked day at Avaya Stadium.
Former Quake Landon Donovan held the previous league record of 145, which had stood since 2014. Wondolowski, 36, started the match with 144 career goals, only needing one more to match Donovan's effort, yet he scored four, lifting the Quakes to a 4-1 victory over a dismal Chicago side. After the triumph, several congratulatory video messages were piped over the wire, including footage from Giants legend Barry Bonds, the Sharks' Logan Couture and Joe Pavelski, as well as US Women's World Cup stars Alex Morgan and Megan Rapinoe, all testifying to Wondo's resolve and well-deserved glory.
Along with the all-time record for goals scored came a few other notable stats. All but four of Wondo's goals were scored for San Jose (144), the most by any player with a single club in MLS history. He has now scored against 59 different goalkeepers in his MLS career, also the most in league history, and he is the only player to score against 24 different MLS teams, including all 23 currently competing in MLS and the now-defunct Chivas USA. Following Saturday's victory, the entire Quakes team repeatedly tossed Wondo up into the air in celebration.
Wondo has always exemplified the Quakes' "Never Say Die" attitude. Through spells, if not entire seasons, of god-awful results, he always refused to believe anything was ever truly over. Even this year, relegated to a substitute role, he never gave up on his dream of breaking Landon's record. If one takes into account the various struggles and obstacles overcome by each incarnation of the pro sport in this town for 45 years now, Wondo's career is a microcosm of it all. He exemplifies everything a San Jose Earthquakes player is all about, and he has long since risen above the jello-brained cretins who obsessively hate on him for his miss in the 2014 World Cup.
As Wondo's performance became the weekend's biggest domestic soccer story, much was simultaneously unfolding, as the Quakes inducted two legends from two different eras into the club's Hall of Fame. Dave "Obie" Obenour was the Quakes' trainer, driver, roadie and all-around fixer during the NASL era in the '70s. Richard Mulrooney was one of the league's best midfielders during the Quakes' most successful era, 2001-2005, when he helped anchor a classic 4-4-2 that powered the Quakes to two championships. Both Obie and Mulrooney brought an entourage of former teammates and families to an evening soiree in the Avaya Stadium Sky Lounge on Friday, May 17. Older Quakes alumni from the '70s, including Paul Child and Mark Demling, flew in to support Obie, while Mulrooney's former coach, Frank Yallop, who coached the Quakes to those two championships, likewise showed up in support. It was inspiring to see a larger-than-usual variety of former players, coaches and general managers from different decades all in the same place, at the same time.
Many of said alumni crammed into Suite 121 to watch the game on Saturday, during a moderate downpour, before entering the field at halftime to attend the official ceremony inducting Obie and Mulrooney into the team's hall of fame. At that moment, Wondo had not yet broken the record—the Quakes were only up 1-0—but the camaraderie of former players brought some serious juju. Chicago collapsed and Wondo pounced on every opportunity, as is his forte. It was simply in the cards.
Then came the afterparty. Britannia Arms Downtown had to call in extra servers to handle the capacity crowd, which took over the entire establishment. In this case, it was mostly the '70s-era players and their families in support of Obie, but as fans filtered in from the game and started talking, many of them came to the same conclusion. Aside from winning championships, this was one of the best days in San Jose Earthquakes history. Everything came full circle.
I wrote this years ago, but I'll say it again. No other American city has anywhere close to the same multigenerational soccer family that San Jose has.