Features & Columns
Silicon Alleys: San Jose Jazz Delivers with Tradition, Genre Transgression
The Sons of Kemet tore through a blistering brass and rhythm set at the Jazz Beyond Stage on Saturday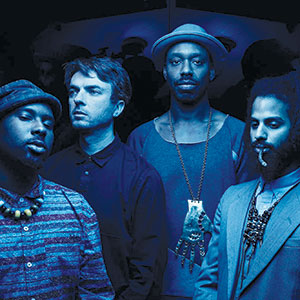 San Jose Jazz celebrated the 30th anniversary of its yearly Summer Fest last weekend, drenching fans in a huge array of musical surprises that outshined all ethnic and gender disparities. Plus, if one wanted to contemplate the long history of the festival, well, that kind of vibe was unavoidable.
But first, the music. From the opening moment, sound was everywhere. At Cafe Stritch, the Otonowa Project played modern jazz arrangements of classic Japanese folk tunes, including one by The Peanuts, the female duo known for the Mothra Song. Moments later, Wally Schnalle's SJZ Collective played Mingus tunes on the Silicon Valley Stage, aka the Fairmont's Club Regent Room. Over on the main stage, The Family Stone—including Sly's daughter Phunne and original founding member Jerry Martini—should have headlined over En Vogue, for crying out loud. The Family was spirited, jumping and musically in the pocket. The songs are as relevant today as they were 50 years ago. At the same time, over in the Hammer Theatre, Bay Area hero and Giants fan Marcus Shelby presented his orchestra for a capacity crowd, including a song inspired by the Brooklyn Dodgers back when they were called the Brooklyn Trolley Dodgers. Back at Stritch, Marquis Hill's Blacktet, a group of master musicians, took the likewise capacity crowd all over the emotional map, from highs to lows, from intensity to subtlety. All of this was just in the first three hours.
Historically speaking, Metro is inseparable from the initial germination of the San Jose Jazz Festival, as it was called in 1990, when this paper was the first sponsor. Metro writer Sammy Cohen started the San Jose Society a few years earlier and saw the future. He understood the potential. Over the course of last weekend, I met several people still around from those days—original festival organizers, interns or even musicians who were on the periphery. Along the fence near the main-stage exit, large photos from every previous festival since 1990 were on display, depicting a three-decade journey.
Now back to the music. Surprises exploded out of nowhere all weekend. Las Chollas Peligrosas, an all-female six-piece from Phoenix, crushed it on the Sonido Clash Stage, combining all sorts of Latin influences, including Mexican folklórico music, ranchera and old world gypsy troubadour stylings. Accordion, violin, double bass and percussion accompanied deep emotional harmonies.
Moments later in the Fairmont, SJSU's Aaron Lington led a jazz combo through meditative swirling versions of the Led Zeppelin tunes "No Quarter" and "Ten Years Gone." Even the loud parts were relaxing. It was like getting one of those Shirodhara Ayurvedic brain massages, where warm oil is dripped onto one's forehead, opening up the third eye.
From England, Sons of Kemet tore up the Jazz Beyond Stage on Post Street, a scene that seemed like a separate-yet-related sub-festival. The band featured two drummers, tuba and sax, somehow threading influences from jazz, house, jungle and whatever else into a gorgeous anarchic-improv tribal-noise-terror display of pure freedom. The vibe reminded me of those '90s warehouse shows in San Francisco, with Crash Worship employing brutal layers of percussion and flame throwers while the audience poured red wine on each other.
Back at Stritch, the urban vibe played out all weekend, with many people appearing on other stages after their gigs. San Jose's Jackie Gage held court Saturday night, switching from voice to piano to guitar and back, performing a smoking tribute to songstress Nancy Wilson, but not before vocalist Kim Nalley and saxophone pyrotechnician James Carter jumped in at the end for a mind-blowing, star-studded moment. Now, it bears repeating ad nauseam that such moments are a regular part of any real urban place. Musicians from a larger gig down the street come over to the smaller bar and sit in. San Jose Jazz should build on this. Of course, everything boils down to more venues and more residents that actually care about music instead of idiotic "shared workspace" corporations. As always, we can only hope.
In any case, the San Jose Jazz Summer Fest, despite some last-minute logistical challenges and signage problems, provided a true global experience, just like San Jose itself. Here's to another 30 years.