Features & Columns
Silicon Alleys: San Jose Pens its Name in Literary Annals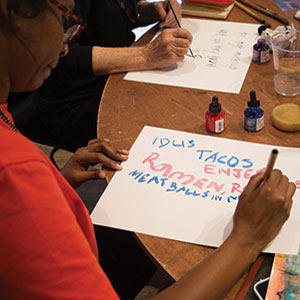 As was evidenced by a smattering of legit events last week, downtown San Jose's literature scene is on the uptick. Many ideas came to the surface, especially some thoughts on how to foreground the literature of migration and diaspora.
For one, the Center for Literary Arts at San Jose State, already a purveyor of gigs by Nobel laureates and Pulitzer Prize-winning authors for decades, continued its foray into the urban landscape with its final gig of the season. Peter Balakian, who won the 2016 Pulitzer for poetry, read from numerous books and talked about his life's work in researching the Armenian Genocide of 1915. Kicking off the week was former U.S. poet laureate and San Jose legend Juan Felipe Herrera, the poet of "Zen Jose," who led a workshop on painting poems at the San Jose Museum of Art and also appeared in conversation in the main library. The Poetry Center San Jose continued to celebrate its 40th anniversary at WORKS/San Jose. A Play on Words presented its latest installment at Café Stritch. Then the SJSU English department presented its annual Legacy of Poetry Day. All in all, it was probably the most lit week of the year, so far.
For Legacy of Poetry Day this time around, participating poets were invited to explore migration and diaspora, with numerous poets presenting words about refugees, immigration, displacement or any other related issues in a marathon 90-minute event outside Hammer Theatre. A motley stew of creative types took part—men, women, young, old and even a few people reading brand new poems inspired by Juan Felipe's workshop a few days earlier. Everyone seemed in tune, connecting to a universal empathy with the struggles of migration, a perfect lead-in to the Balakian event inside the theater.
Balakian won the 2016 Pulitzer Prize for his book of poetry, Ozone Journal. His 1998 memoir, Black Dog of Fate, won even more awards. His other prizes and accolades would fill this page. At the Hammer Theatre event, he read from a variety of his works and then took questions on stage from SJSU President Mary Papazian. This was a rocking tag-team, since Papazian is also Armenian, her husband founded the Armenian Research Center at the University of Michigan, Dearborn, and, with English literature degrees from UCLA, she hails from a poetry background.
Balakian also took questions from the audience, including one person who asked how to write about the refugee experience. Balakian said now was an opportune moment to do so. Refugees and migrants are reshaping the world in numerous ways, he said, and their perspectives are often willfully ignored.
This is true. Refugee and migrant issues are beginning to carve out a space in contemporary world literature these days, so it's only logical that a new wave of authors that were originally refugees, immigrants, or denizens of multiple countries are now trying to foreground concepts of displacement and migration.
That said, two brand new anthologies succeed on all of these fronts, and to wrap up this column, it is to them I shall now quickly turn, because each one will bring new dimensions and ideas to any developing San Jose literature scene, no matter what happens.
Co-published by Feminist Press and the Asian American Writers' Workshop, Go Home! is a multi-genre anthology of Asian-American writers responding to racist slobs who spew dreck like "Go home!" when the target of the insult was born in the U.S. and is thus already home. Numerous authors, mostly women, fill the book with fiction, poetry and hybrid forms. Another anthology, The Displaced: Refugee Writers on Refugee Lives, was just published last week and features nonfiction essays by authors, both famous and unknown, but all of whom were once refugees.
Author Viet Thanh Nguyen wrote the introduction for both books and also edited The Displaced, in which he writes: "Many writers, perhaps most writers or even all writers, are people who do not feel completely at home. They are used to being people who are out of place, who are emotionally or psychically or socially displaced to one degree or another, at one time or another. Or perhaps that is just me."
In the end, I will say, "No, it is not just you."