Features & Columns
Silicon Alleys: Remembering San Jose's Ostrich Farm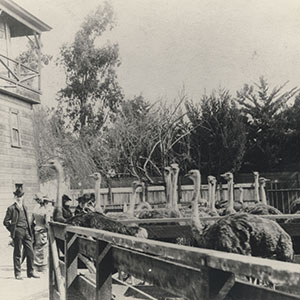 The cosmic matrix of San Jose history once again enlightens us all. This time around, after visiting the massive archives at History San Jose across from Kelley Park, I prepared to pound out some words on the San Jose Ostrich Farm that appeared at Alum Rock and King from 1904 to 1909.
But lo and behold, I soon discovered that the heroes in the California Room of the main library had already whipped out a similar story just a few months ago. As a result, I shuffled on over there and pored through their storehouse of research materials, leading me to even more inspiring tidbits of local ostrich history.
First of all, the California Room is one of this city's most treasured locations. Every crazed tidbit anyone wants to know about this valley's evolution lies buried in the room somewhere. You must be the kind of person that enjoys digging for stuff, but it's not that difficult. The California's Room's Brandy Maldonado blogged about the ostriches for that facility's webpage, so after I conducted some initial investigations, I wound up prowling around for almost an hour. Quite a rocking series of digressions and tangents made themselves available to me. This is often how research works. You wind up delving into something else entirely.
In terms of ostriches, Maldonado's blog tells us that in 1904, Colwell P. Leitch brought 24 of them from South Africa to his farm at the intersection of King Road and Alum Rock Avenue. The city directories claim it was the northwest corner, right where the parking lot now sits. Apparently this was a thriving business. The ostriches were plumed every eight months, with rubberneckers from far and wide arriving to see just how this was done. The feathers and plumes brought in serious dough, often commanding $40 a pound—a fortune in those days—which led Leitch to operate a retail establishment at the Hotel St. James, across the street from St. James Park, right where the post office now sits. The feathers were sold for use in women's hats and boas. Unfortunately, Leitch only kept his ostriches in San Jose for a few years before hauling them off to Sacto. Only three ostrich farms existed in California at that time.
Like any scholarship correctly implemented, the California Room's blog left me wanting to continue the journey myself, so that's what I did. And I couldn't stop digging. A Pat Loomis column in the San Jose News, dated Aug. 3, 1973, titled, "Back in Grandpa's Day," further added that the farm was a "greater tourist attraction than the electric tower at Market and Santa Clara streets or the mineral springs at Alum Rock Park." Maybe instead of a new light tower, we should build a giant ostrich.
Then came a glorious tangent. When the farm was still in operation, Mr. Adolph Heymann, a French immigrant, washed and dyed the plumes at his home-based dye works business on San Fernando Street.
Additional California Room research told me that after the ostriches left town, the Heymann clan morphed their business into the DeLuxe-Imperial Dyeing & Cleaning Works at 224 E. Santa Clara St., right where City Hall now sits. By the time Eugene T. Sawyers' History of Santa Clara County was published in 1922, the Heymanns employed about 14 people and had three wagons covering San Jose and Santa Clara.
After selling off that business in the '40s, the Heymanns started Deluxe Dye Works and Rug Cleaning at 1488 N. Fourth St., a business that still exists today, at the same address, operated by members of the original family. I believe it's the fifth generation. Their website contains numerous historical photos, including interior and exterior shots of the original shop. The family practice goes all the way back to Adolph, who trained in French textile mills in the 19nth century. Even as recently as 2000, I vividly recall staggering by the boarded-up Deluxe Cleaners building that still existed on Santa Clara Street, between the 99-cent outlet and the Taco Bell, before all of it was bulldozed to make way for the new City Hall.
This is why the California Room rocks. I shuffled over looking for ostriches and instead wound up reacquainting myself with the history of Deluxe Cleaners. I feel like a dyed-in-the-feather local.