Features & Columns
Silicon Alleys: Arts and Chaos
Despite disasters, Silicon Valley's artists are still making inspiring work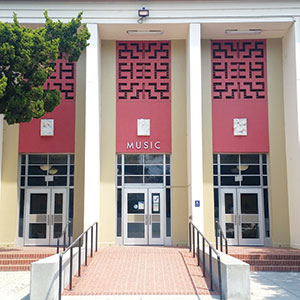 Seventy years ago, SJSU's music building displaced a little-known pet cemetery and just as I started to spill the history in my word processor, all classes were canceled on the first day of the semester.
Covid-19 had already forced most university classes into the online world. Then poor air quality from wildfire smoke triggered an across-the-board cancellation around noon on Aug. 19. It was a defining infomercial for our era: There wasn't even time to get over the previous disaster, when another one happened.
The cancellation only lasted a day, but it came right as I occupied an isolated cafe table down the street, contemplating deceased former professors and music-school friends at SJSU, as I often did whenever the fall semester started. If one remained in downtown San Jose for decades, such thoughts became unavoidable. Plus, the previously unknown history about a pet cemetery had recently come to my attention.
At the beginning of the '50s, the San Jose State campus only existed between Fourth and Seventh streets. Most of everything east of Seventh Street was still a residential neighborhood. Jaqueline Harmon Butler, who grew up nearby, helped a friend bury a few deceased pets in her backyard. Her friend lived on Eighth Street, a little bit north of San Carlos Street, right where the SJSU music building now sits.
"One day her dog, named Cookie, a little golden cocker spaniel, got hit by a car on San Carlos Street and was killed," Butler told me. "And of course we were so upset about it, we buried it in her backyard."
Butler also had a canary that passed away and the girls buried the bird in the backyard.
"Another time we found a gopher snake that had a rat in its belly," Butler said. "We tried to open it up to save the rodent and unfortunately the rodent was dead and the snake died, too. So they also got buried back there."
Then came Butler's cat, Tippy, a black feline with white paws. After Tippy passed away, he went to rest in the same back yard, where the SJSU School of Music and Dance now sits. I did not know any of this when, years later, I spent the entire decade of my 20s in that building. And since I owed pretty much everything to the music department, I once again summoned the ghosts in my word processor.
My professor Allen Strange came to mind immediately. He was the one who put me on a path of international travel—precisely what turned me into a writer in the first place. I'd have wound up working in a record store otherwise. My best friend during that time, Mike Andrade, sadly passed away at the height of our rapscallion college days. Both of them still influence my columns many years later. They would have loved the Silicon Alleys page.
Jump to the fall semester of 2020 and a silent morgue-like campus. Normally, when the fall semester begins, brigades of backpacked students file down Paseo de San Antonio from the light rail to school. This year, except for a few dedicated hipsters lining up at Philz Coffee, the paseo sat empty.
But as I typed away, I promised myself that I would not fall victim to melancholy. Readers don't want to hear that right now; instead, they want optimism and reassurance that better days are ahead of us. And I believe as much, because right when I was trying to figure out how to end this column, another serendipitous moment emerged.
I learned the Hammer Theatre is investing serious bucks to livestream events using hi-def cameras, with one gig already in the works. Thanks to New Ballet, an evening of live-performed dance is slotted for Oct. 24, featuring a new choreographed work by Dalia Rawson, set to music by local composer Peter Colclasure and performed live by piano and string quartet.
The way artists soldier on through the chaos inspires me. So I did not allow myself to get depressed. The neighborhood would see better days. A phoenix would rise from the wildfire ashes. From the mud, a lotus would bloom.