Features & Columns
Silicon Alleys: Scott's Seafood Tries Its Luck at Location with High Turnover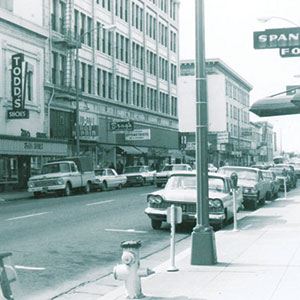 Every street, if not every corner, in downtown San Jose can be contemplated from a larger historical perspective, especially if you're a local. Take the corner of First and Paseo de San Antonio.
Right now, as Scott's Seafood prepares to migrate from way across the neighborhood into the ground level of the Twohy Building, everyone hopes the celebrated eatery can finally put an end to the ancient and perpetual cycles of creation and destruction long characterizing that corner—the notorious Curse of Casa Castillo.
The Casa in question was a very popular restaurant located at said corner for many years, but in 2001, the San Jose Redevelopment Agency booted them out of the building. Ever since then, nothing has succeeded in that space. Everything has failed. Following Casa Castillo, the likes of Zyng Asian Grill, Asqew Grill, Ruffled Feathers, Blackbird Tavern and most recently Social Policy have all opened and then imploded shortly thereafter. Hence, the Curse of Casa Castillo, as locals say.
But philosophically speaking, what if the curse went back even further? What's now the pedestrian alley, Paseo de San Antonio, used to be an actual street, San Antonio Street (see photo), that went from Plaza de Cesar Chavez all the way to SJSU. On the other side of campus, San Antonio Street has remained relatively unchanged for a century, but west of SJSU, things have been quite different. Fifty years ago, for example, one could find a curious place called Ho-Sale Gifts, plus a variety of shoe stores, jewelry shops, clothing boutiques and a slew of intriguing flophouses like the Curtis Hotel. In the immediate area, one could drink at the Gold Nugget Tavern, The Office Tavern or the Sapphire Lounge. One could shop at the radical Kaleidoscope Bookstore. Camera stores and sewing machine retailers were not far away. And at this time, the Twohy Building had not yet been repurposed with hipster apartments. Instead, one found secretarial offices, insurance companies, chiropractors, jewelers, union reps and the Alcoholics Anonymous Intergroup Central Office.
Of course, when it comes to this area, let us not forget to mention one of the most colossal failures in downtown San Jose history: the Pavilion Shops, a large open-air shopping mall, which was located across from Casa Castillo. Right now, a shuttered gym, along with Taco Mania, sit right where the entrance used to be. The entrance featured steps that went down into the lower level of the complex, where tons of retail establishments all held high hopes for an upscale version of downtown San Jo that never happened. This was 1988, right when Rod Diridon was predicting the light rail would transform San Jose into Paris, London or Zurich.
At the time, the city was throwing tens of millions at schemes to gentrify downtown with affluent people—all of which failed—and the prime hornet in their bonnet was the Pavilion Shops. The mall included, among other things, Victoria's Secret, The Sports Fan, Le Beau Monde, Looks, Musicland, a Fila store, City Sunglasses, Boudin Bakery, Bonsalls Shoes, Benetton, Belles Jambes, Art Attack, Added Touch, Teddie Ôn' Tees, plus Laura Todd Cookies, Top Ten Leather, Tish's Toys and a handful of restaurants. Since no one ever went, the whole mall eventually plummeted out of business by the mid-1990s. At street level, a few businesses remained along the perimeter, as they do now, but the open-air portion inside was closed off and the top floor was given to a server farm company.
Normally I'd offer some comic Zen perspectives to help ease the pain of such idiocy, but this week I'm in a Western mood. San Antonio Street, which I'm assuming was named after Saint Anthony, is one of the oldest streets in San Jose, going all the way back to the 19th century. Saint Anthony is also the patron saint of finding lost or stolen articles, which in this case means lost and stolen restaurants. And dive bars. And bookstores. And significant downtown retail, which we'll certainly never see again, at least not in my lifetime. So for the Catholics out there, start prayin' to Saint Anthony. The Curse of Casa Castillo could stand to be lifted.