Features & Columns
Silicon Alleys: Museum's 'Tech for Global Good' Program Fosters Humane Innovation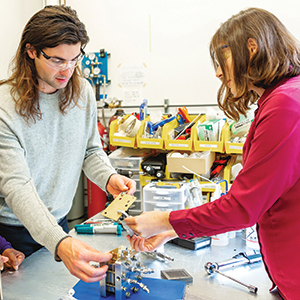 These days, the giant mango building of downtown San Jose might as well rename itself The Tech Museum of Inspiration, because a collection of hopeful events are about to unfold, inspiring anyone that needs a more positive antidote to the violent times in which we live.
Beginning last year, the museum retooled its signature event, The Tech Awards, into a new concept, Tech For Global Good. The next celebration takes place this Saturday. A related gathering, the Youth Climate Action Summit, organized for students, by students, debuts on the following Saturday, Nov. 10. Inseparable from both events will be the reopening of the museum's IMAX Dome Theater—now the only digital IMAX dome in the world. Tim Ritchie, president and CEO of The Tech, claims that these endeavors are part of the museum's understanding itself with greater clarity, indicating how the museum will continue to forge ahead and inspire the next generation, not just pander to grown-ups.
"The Tech Awards were very adult orientated, adult focused, and it was really a big gala and fundraiser, and we realized that's fine, but our focus should be on kids and how do we do something that's Tech-Awards-like but that relates to kids," Ritchie says. "That got us to the Tech for Global Good, and then that got us to this youth summit."
While similar to the Tech Awards, Tech for Global Good supports, inspires and specifically targets the next up-and-coming generation of inventors, engineers, physicians and scientists to implement technology in useful, humane ways. Each year, The Tech selects five "Tech Laureates," whose projects already show great promise in addressing a predetermined theme. Last year the theme was Technology and Health. This year it's Technology and the Environment. This year's winning projects include Freight Farms, whose goal is to grow food anywhere by transforming recycled shipping containers into vertical, hydroponic farming systems that can grow two to four tons of produce a year for less than five gallons of water a day. Another winning laureate, Opus 12, developed a technology for recycling CO2 into cost-competitive chemicals and fuels using only water and electricity as inputs, thereby reducing carbon emissions by heavy-emitting companies while creating a new revenue stream in the process.
Each of the five laureates' projects are then presented in the museum via interactive exhibits that remain until next year. Visitors empathize with the problems at hand and then walk away inspired by the young laureates and their attempts to make the world a better place.
The Tech for Global Good main event Saturday also includes the James C. Morgan Global Humanitarian Award. This year's recipient is the legendary entrepreneur, environmentalist, author and ecological activist Paul Hawken, whose resume goes all the way back to Martin Luther King, Jr.'s efforts in the '60s. Currently Hawken is the leader of Project Drawdown, an elaborate and rational roadmap toward reversing global warming.
As if that weren't enough, Tech for Global Good also includes a youth advisory board, formed in 2017, consisting of 12 high schoolers dedicated to inspiring other high schoolers to expand their understanding of global issues, in this case, the drastic effects of climate change. The debut Youth Climate Action Summit on the 10th will function as a launching pad for kids to learn about the science and impact of climate change. Between breakout sessions and activities, National Geographic Explorers will give talks and share approaches to tackling the issues. A few of them might even connect remotely via the new version of the IMAX Dome, now fully converted from film to digital.
Which brings us to the final celebration. Anything one can do on any digital device can now, in theory, be implemented in the digital IMAX Dome. In the future, the facility might be used for immersive presentations, conferences, interactive digital concerts and much more. Ritchie says the new dome will play into The Tech's two primary powers: convening people and inspiring people—not just for adults, but for future generations.
"I want kids to see this as their resource to use, to take on big problems and communicate with other kids around the world," Ritchie says. "And not just with kids, but with policy people and anybody else."