Features & Columns
Silicon Alleys: Emporium's 'Big E' is Being Restored to Landmark Status
Ted Ramos rescued the sign from a former Emporium store from a San Jose storage yard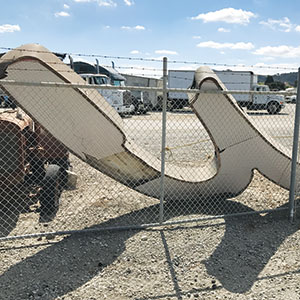 One day Ted Ramos was traveling south down Monterey Road—the Champs-Elysees of San Jose's underbelly—when he spotted a faded masterpiece wasting away in a storage yard near the intersection of Live Oak Road.
At first, he thought he'd seen the "Big W," as in the film, It's a Mad, Mad, Mad, Mad World, but upon closer inspection, it was the "Big E" from The Emporium, the long-defunct department store at Almaden Fashion Plaza. Someone had saved the 'E' after the Emporium chain went out of business in 1996. The sign was rusty, some of the plexiglass was cracked and pieces were missing, but it was recognizable. And salvageable.
"When I looked through the little broken pieces, I could still see the neon tubing inside," said Ramos. "I was able to get a real close look at it because it was leaning up against the chain link fence from the other side. ... It looked like it had been weathered. ... But I was surprised that a lot of the plastic covering was still there. I figured that that would be all broken off, so it was a good thing to see."
His timing was perfect. Ramos' discovery of the Big E occurred soon after Heather David helped launch the San Jose Signs Project to preserve our celebrated mid-century signage, as other reputable grown-up cities across North America have similarly done. Ramos contacted David, who in turn relayed him to the epic storage facilities at History San Jose, where the Big E now sits, waiting for the next stage of restoration.
"I was willing to rent a truck myself if I had to, to get that thing transported over to History San Jose," Ramos said. "Because at that time, I wanted that thing saved."
The Emporium chain started in San Francisco in 1896. The flagship store on Market Street was a neoclassical city landmark and one of the original grand dames of West Coast retail shopping. Later, as the post-WWII suburbanization of America began to cannibalize the landscape, so did suburban shopping malls, which were often anchored by huge department stores like the Emporium and its famous Big E branding scheme. Everyone knew that 'E.'
As The Emporium continued to expand in the late '60s, it built Almaden Fashion Plaza on several dozen acres of land at Blossom Hill Road and Almaden Expressway, which was then surrounded by orchards and not much else. By the late '70s, the plaza had 52 tenants and parking spaces for 2,573 cars. In particular, this columnist grew up inside Waldenbooks and Reik's Music, a locally owned instrument retailer.
Unfortunately, The Emporium was bought out in the mid-'90s, right as Highway 85 began to emerge. Costco then opened across the parking lot, practically saving the whole complex from sheer desolation. What used to be The Emporium building is now Bed, Bath & Beyond, Diddums and buybuy BABY, although it still looks relatively similar on the outside.
Almaden Fashion Plaza was shortened to just Almaden Plaza decades ago, yet many still call it by the original name. These days, the interior open-air part of the complex looks almost exactly the same as it did 40 years ago. The same cream-colored cement trappings remain. The same brickwork patterns appear in the walkways. If you know where to look, you can see the label scar where the original Big E used to be.
Thanks to Ted Ramos, that E now is saved at History San Jose, awaiting its next reincarnation. With the recent heroic restoration of the Stephens Meat Products dancing pig sign, as well as the return of the OSH sign, maybe someone can hatch a scheme to do something.
"I've always had an interest in neon signs ever since I was a kid," Ramos said, adding that the Neon Museum in Las Vegas helped inspire him to contribute what he could locally. "When I saw all these neon signs in San Jose, I was saying, 'I wish they had something to preserve these things.' And then when I saw the San Jose Signs Project, I was like, 'Oh, awesome. I'm not the only one.'"