Features & Columns
Silicon Alleys: Flower Buds
Denizens of '60s jazz, The Flowers thrived with Silicon Valley icons of its time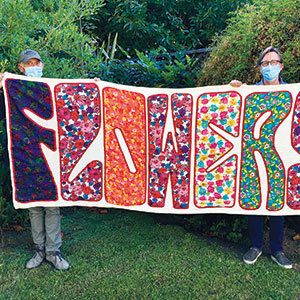 Willow Glen is the only place I can nibble on an $18 hamburger and connect to a matrix of history that includes Ken Kesey's lawyer, the Black Panthers, Neal Cassady and the Poppycock in Palo Alto.
As I sat at Black Sheep Brasserie, I watched 60 years of counterculture history spiral out of the ether. First of all, I cannot dine at Black Sheep without thinking of Stevens Music, which occupied the same building decades ago. I first took keyboard lessons there in 1978. Gordon Stevens himself was not with me at the meal, but he played stand-up bass in the mural on the side of the building. He and I reconnected a few days later, both in person and on the phone.
Over the last dozen years or so, Stevens, 85, has weaved multiple serendipitous yarns of history that have triggered several columns in this space, but I never got around to The Flowers, a jazz band with which Stevens gigged in the late '60s.
In The Flowers, Stevens played electric bass and mandolin while Ken Kesey's lawyer Paul Robertson played sax and flute. Stevens still has an original Flowers banner he and his wife made in 1966. There was also Don Alberts, Buddy Barnhill and Bob Neloms in the band, none of whom are still with us.
Neloms was previously the original Motown Records staff pianist. Following The Flowers, he went on to a storied jazz career, most notably as the final piano player for Charles Mingus in the late '70s.
The Flowers were denizens of the same Palo Alto stew in which Jerry Garcia, Neal Cassady and Kesey all thrived. They were practically the house band at The Poppycock, a fish and chips restaurant that doubled as a rock club at University Avenue and High Street, in a brick-façade building that still stands today.
When royalties began pouring in from Kesey's novel One Flew Over the Cuckoo's Nest, he used some of the money to support the Merry Pranksters and the fledgling Grateful Dead—all of which is well documented—and he also gave some dough to The Flowers for music gear.
As the Pranksters crossed over with psychedelia, free improv, hippies, post-Beats, bikers and young, confused Stanford students, everyone seemed to show up at the Poppycock. According to Stevens, Neal Cassady would get up on the stage and dance during The Flowers' set.
"He had a little hammer on a chain like truck drivers have, tools on his hip, because he fancied himself a mechanic also, which he was," Stevens says. "He'd come up on the stage when we were playing and spin his hammer on his chain, on his hip, spin it around and dance. He was almost a court jester."
At the time, Paul Robertson lived in San Jose's Rose Garden neighborhood. His brother-in-law was Steve "Zonker" Lambrecht, one of the Merry Pranksters who joined the famous cross-country trip in 1964. Zonker was the only San Jose State University Spartan to inspire a Doonesbury character.
Whenever Kesey wanted to get away from all the madness—or the cops—he'd bring the Prankster bus down to San Jose and park it near Robertson's house, which was coincidentally just around the corner from Joan Hammer's house.
Hammer was one of the all-time grand feminist matriarchs of San Jose political activism. Their family, and that house in particular, became intertwined with Black Panther dynamics in the late '60s and early '70s, which are far outside the scope of this column, but you can read James Carr's autobiography, Bad, for more details; it's brutal.
As one of the last remaining San Jose characters who can help connect all the dots, Stevens told me all sorts of writers and historians regularly call him to fill in the gaps of this whole mess, or at least the musical pieces. "There's so much coming out of the wallpaper now," Stevens says with a tinge of wryness in his voice. "There's a lot of scandalous stuff that's happening in a lot of the dinosaur world."
Nevertheless, I will definitely make another appearance at Black Sheep Brasserie. The $18 hamburger is not that huge but if it can trigger a rocking matrix of history, then I'll keep coming back.