Features & Columns
Silicon Alleys: Bracing for Inevitable Upsurge of Google-Related Development on San Carlos Street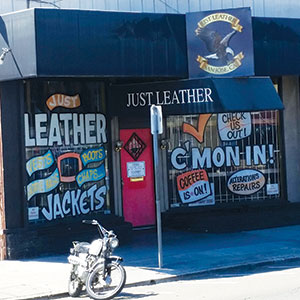 Twelve years ago on this page, the anti-man-about-town wrote a travelogue about the stretch of Stevens Creek Boulevard and San Carlos Street—from Just Leather all the way eastward to Diamond Laundry & Cleaners—identifying components of what could be understood as the Melrose Avenue of San Jose's underbelly.
Many of the places I mentioned do not exist anymore, and with developers now dumbing down the street's character with cookie-cutter housing complexes, the time was right to revisit the grand promenade.
This stretch of road takes one to a different era. The streetscapes are leftover from decades ago, when San Jose wasn't entirely filled in with suburbia and 280 didn't exist yet, so miles of connector thoroughfares with single-story retail still made sense. Don't fret, though. Interesting stuff still remains, if you just ignore all the new housing.
The emotion started right away. While riding the bus over to Just Leather, I overheard a former Del Monte Cannery employee, now 74, on his way to the 99-cent store, waxing nostalgic about how cheap it was to live here decades ago. Never again, he said. It's over.
Just Leather thankfully looked the same as when I first bought a jacket there in 1986. On the front window it still said, "Coffee is on," like it did 33 years ago. The same little Honda motorcycle sat out front in the parking space like it did in the '80s. If you don't see that bike out front, it just means the place is closed. Inside, the coffee was on and I encountered what's now the third generation running the joint. The original crew opened the store in 1967.
Across the street and just a year older than Just Leather, Falafel's Drive-in was jammed at lunchtime on a Saturday. There was a Faction sticker on the front window, right underneath the Zagat designation—a yin-yang of punk and luxury. It doesn't get any more San Jose than that.
From there, it was easy to get carried away. A slew of beautifully disfigured facades highlighted the next mile, including San Jose's celebrated row of antique shops. As always, each one featured its own janky panache and each one was doing business when I slithered in. Believe me, the experience of hearing "Green, Green Grass of Home" by Tom Jones while exploring the labyrinthine confines of a San Carlos Street antique shop is more necessary than anything WeWork will provide.
Neighborhood bars are important, too. If your hands are shaking pre-noon, like mine used to be, Alex's 49er Inn remains a highlight on this strip. Even though nearby icons like Time Deli, Thrift Village and Babyland are long gone, Alex's lives in glorious infamy, as does Bears right down the street, formerly Bella's Club. And no, I'm not forgetting the Red Stag. Even though the ancient stripmall in which it sits has been painted, fixed up and thus ruined, the Red Stag carries on. At these legendary watering holes, you will not find $17 artisan pickle sandwiches or craft brew hipsters bathing in beard oil. Instead, you'll find heroic denizens of the gritty underbelly with stories to tell.
Not too far east, one finds residue from the city's war on bowling alleys. As recently as 50 years ago, Fiesta Lanes featured a drive-through restaurant and, in later decades, a pleasantly seedy lounge that forever stank of cigarettes. Alas, nothing remains but a dark beige housing complex and a driveway named after the bowling alley.
In, around and between all of this, you'll find humble Ethiopian restaurants, tattoo shops, ginseng suppliers, vintage boutiques, a kickboxing gym and all sorts of wild places. Explore this part of town while you still can because the techie condo-pocalypse is coming. And it ain't going to stop for no one, perhaps not even O.C. McDonald and Western Billiards, both of which feature the most rip-roaring old school signs still left on that street. Someone better make sure those signs get preserved. Don't trust the developers to care. They won't.
Finally, I ended my journey at the legendary Diamond Laundry & Cleaners, right at the hideous 87 overpass. The crumbling wooden billboard is the oldest one in San Jose, and it shows. Somebody restore that masterpiece now!