Features & Columns
Silicon Alleys: Show and Tell
How an early try at livestreaming a Vegas show to SJSU both failed and succeeded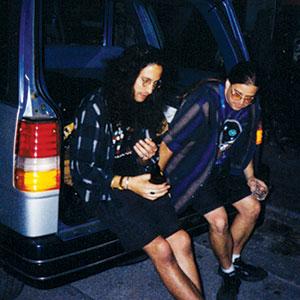 Every picture tells a story. I'm not talking about the Rod Stewart album; I'm talking about my best friend in college, Mike Andrade, who passed away 25 years ago. The official anniversary was a few months back, but when a certain photograph resurfaced, the memories came right along with it.
Mike and I were denizens of the SJSU School of Music, first and foremost, but in my case, I spent much of the mid-'90s moonlighting, or daylighting, at the art department's CADRE Institute, as it was then called.
At the time, CADRE was a catch-all refuge for any rebellious creative malcontent that didn't fit in anywhere else on campus. Within its walls I found all sorts of shenanigans.
In 1995, for example, CADRE started experimenting with live internet broadcasts when there was no established commercial mechanism for doing such a thing. The only Macintosh software that could do this was an early video conferencing program called CU-SeeMe, which was primarily used for small, multi-point meetings where participants could see each other on three-inch squares. We decided to abuse the hell out of it.
In a final project for Steve Durie's Art 103 class at CADRE in the summer of 1995, we tried to use CU-SeeMe to broadcast a gig from Las Vegas, at a now-defunct bar called Fremont Street Blues & Reggae. We were playing free improv at the time, and the insane process we went through to make this happen was part of the improvised performance. Art was inseparable from life.
In 1995, smartphones did not exist, most people still accessed the internet via modems over a regular landline, and security checks at the San Jose Airport were not what they are today. Mike and I brought an entire Macintosh computer—probably a Quadra or a IIvx or something similar, along with a heavy CRT monitor—onto the Southwest flight as carry-on baggage and placed them onto the seats next to us. This was the broadcast machine for the gig.
The third guy in the ensemble cast, Ryan Torchia, drove the music equipment all the way to Vegas in his van. I don't remember why we did it this way. Mike and I had had a few drinks by the time we left for the airport, but I distinctly recall dragging that damn monitor on the airplane.
Once arriving at Fremont Street, no one at the club had any idea what we were doing—we barely did either—and there was no spare landline outlet. We had to buy 100 feet of RJ-11 phone line and run it from the bar next door just to stream the video back to SJSU, where the Art Department technician Kelvin Chan was setting things up on the other side.
In pure Vegas fashion, the plan was for the other students in Steve's class to sit at CADRE playing blackjack and drinking martinis while watching the live video stream of our gig from Fremont Street. It had to work. It just had to.
Well, it didn't.
Unfortunately, the connection broke down right as we went on stage, so the class never saw us at all, but everyone at least understood the beautiful idiocy of the whole experiment. We spent hours on the phone from our room at the Luxor Hotel, making calls to Kelvin to set the whole thing up, so our phone bill was 11 pages long when we checked out. After we got back to San Jose, I gave the phone bill to Steve Durie as the final documentation for the project. He gave me an 'A' in the class.
Unfortunately, Mike Andrade collapsed unexpectedly in March of 1996, in a house near the intersection of Seventh and San Salvador, while watching television with his girlfriend. He was one of the nicest dudes I ever knew, a composer, teacher, politician, humanitarian, astronomy enthusiast, poet, pothead and creative genius all rolled into one. He was like the older brother I never had.
So, this week, due to a picture telling a San Jose story, I will brew some tea and celebrate the life of Mike Andrade. Godspeed!