Features & Columns
'Sparks' Exhibit Provides Timeline
of Glass Sculpture Movement
In conjunction with the Glass Art Society's 44th annual conference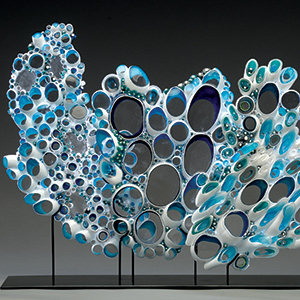 Right now, approximately 50 pieces of glass art fill the Carmen Castellano Fine Arts Gallery at San Jose City College. Just one of many glass shows already installed or about to be installed around San Jose, this one comes with a catchy title: Sparks: California Glass Networks 1960s to Present, the Glass Movement Catches Fire in California.
The abundance of glass arrives in conjunction with the Glass Art Society's 44th annual conference, which descends upon San Jose the weekend of June 5-7. Titled, Interface: Glass, Art, and Technology, the conference will bring thousands of glass aficionados to town for numerous events and functions. As a result, many galleries are participating.
Since the Carmen Castellano Fine Arts Gallery is located in an academic institution, Mary B. White, one of the curators, wanted to focus on the entire history of glass art in twentieth century California. White taught glass at SJSU from 1985-2005, so she teamed up with Robertino Ragazza and Jim Wayne to orchestrate the collection and create a gargantuan timeline of academic glass programs, schools, collectives, teachers, students and the techniques they innovated.
"I wanted to highlight the important contributions of the many schools who helped spread the word, who 'sparked' the ideas of using glass as a sculptural art material and wanted to create a timeline that would show when and where the different glass programs started," White says. "I wanted to give back to the San Jose community by creating a really comprehensive and well researched show that might give SJCC students some ideas about life paths, about how artists move thru their lives and careers."
The timeline covers one entire wall in the gallery, connecting dozens of California universities, their glass art programs, instructors, students and proteges in one large visual history. Like one continuous royal bloodline conspiracy in glorious form, it's an amazing piece of work to look at, equally as creative and laborious as the pristine glass works in the exhibit. You don't have to be a taxonomic spreadsheet lunatic or an infographics fetishist to enjoy the display--(not that there's anything wrong with that)--but fans of Excel and Adobe Illustrator will salivate over the project. Any observer/participant will take away the impression that California institutions of higher learning and their educators really were pioneers in the glass art movement, much of which originally emerged at SJSU and SJCC programs. Looking at this wall-size piece of work, one can trace entire lineages of who studied with who, at whichever college throughout the entire state, and then moved on to either teach the next person, at some other college somewhere, or start their own new glass society of some sort.
Robertino Ragazza, one of the curators, was the hero responsible for much of the timeline. As I stood there and marveled at the whole display, artist Steve Salisian, who taught at SJCC from 1968 to 1998, stood there and spent twenty minutes explaining to Ragazza what he thought was left out of the timeline. It was amazing to watch. Salisian was present for much of the history depicted in the project, so the space-time continuum seemed to shatter over and over again. All of which was intentional. According to the text panel, anyone with any smidgen of glass knowledge is invited to attach post-it notes to the timeline in order to fill in the blanks. Call it a network, a collaboration, a remarkable participatory experience.
Of course, Sparks features plenty of glass art also. John Burton, for example, created works in the '50s, before the official beginning of the American Studio Art Glass Movement in 1962, and eventually helped develop the borosilicate technique. Some of his work is featured in the show. In 1964, Robert Fritz started the SJSU glass program and Marvin Lipovsky started an equivalent program at UC Berkeley. Those programs were the first on the west coast to feature hot furnaces, helping to legitimize glass as a viable sculptural element when previous establishmentarians tended to view glass as primarily utilitarian projects. The show also features numerous contemporary glass artists, many of whom will attend a rip-roaring reception on Friday, June 5th, to coincide with the Glass Art Society Conference.
Sparks
Thru June 7
Carmen Castellano Fine Arts Gallery