Features & Columns
Sparring with Beatnik Ghosts
Lynn Rogers' literary Sparring events bring together voices from the area's Beat history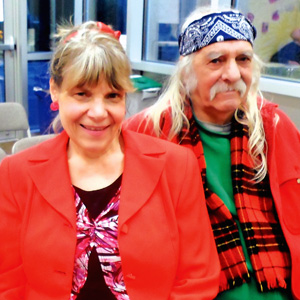 Thanks tooLynn Rogers, the former site of Camden High School in Cambrian Park is now hosting San Jose incarnations of "Sparring With Beatnik Ghosts," a regular series of open-mic poetry inspired by the Beat generation. Old friends and disciples of Jack Kerouac and Neal Cassady may even show up.
So far, dozens of "Sparring" events have unfolded all over the Bay Area, from San Francisco to Santa Cruz, initially at the celebrated Chinatown dive, Li Po Lounge, where a six-hour marathon of poetry and spoken word took place in 2008. Kerouac, Ginsberg, Philip Lamantia and the whole damn group frequented that joint 50 years ago, so it was a genuine place to start.
Installment No. 48 takes place this Thursday at the Camden Community Center. San Jose resident 50 years running, Al Hinkle, the inspiration behind Ed Dunkel in Kerouac's On the Road, will be interviewed. Others on the bill include Bea Garth, Rogers herself and Howard Pugh.
Back in the day, Rogers originally tripped around with Neal Cassady when she was a teenager; she now teaches creative writing at the Camden Community Center. She has written several novels of transpersonal post-Beat spiritual quests in the ignored suburban wastelands of the South Bay, including a few I've raved about in this very space—Side Roads, Born in Berkeley and Rainbow's Daughter. Recently, Rogers was invited to take part in a "Sparring" event at the Beat Museum in North Beach. It was called "Prankster Girls" and also featured Cassady's former companion, Ann Murphy.
"To thank them for including me in this, and my writing, and my art, I decided to initiate the first 'Sparring With Beatnik Ghosts' event in San Jose," Rogers told me.
That first event erupted last month and included Al Hinkle, Ann Murphy, Al Preciado, Bea Garth and even Jerry Kamstra, author of The Frisco Kid, a book as important in documenting the Beat journey as On the Road. It all went down February 7, the night before Neal Cassady's birthday.
This time around, the party is called "Exploring the Beat Spirit." Rogers will further interview Hinkle, the last one living from those who were present on Kerouac's road to the interconnected everywhere.
"He's an oral memoir person, who's full of stories about his experiences among the Beats," said Rogers. "And he brings out the real, kind, loving gentleman side of the Beat man that we don't hear about as much."
After the participants do their thing, an open mic will allow any other poets to join the fun, transdimensionally connect to Beat history, and be counted among the stories of Kerouac and Cassady's time in San Jose, which are already well documented.
Being that the Camden Community Center is a city of San Jose facility, Rogers also said that senior program manager Melissa Monsees was instrumental in helping make the space available for these poetic events. Were they alive now, Kerouac and Cassady would be damn proud, if I do say so myself. In fact, Rogers continued, it may even lead to more formalized writers' salons in the future.
"We hope to possibly have one more in the spring, and then to network and create literary and artistic spontaneous joy in the South Bay," said Rogers. "And have more again in the fall."
As our conversation came to an end, everything circled back to Kerouac and Cassady's time in San Jose, as it does whenever Rogers and I talk. According to Rogers, the Cassady house on East Santa Clara Street is where Neal first began to study Edgar Cayce.
Kerouac, on the other hand, was looking for something a little different, which led him, in a now famous story, to first discover Buddhism by stealing a book from the San Jose Public Library. There you have it. My vote for "Best Beat Generation Torch Steal" goes to Lynn Rogers and the folks behind "Sparring With Beatnik Ghosts."
Sparring with Beatnik Ghosts
Camden Community Center (Rm. 5)
March 28, 6 pm