Features & Columns
Outdoor Music in St. James Park
With Music in the Park and Fountain Blues Fest, St. James Park
proves a promising spot for outdoor music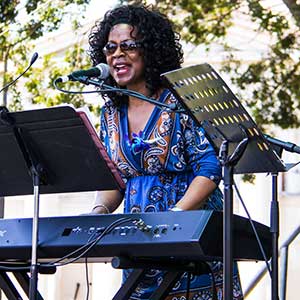 Last week the Fountain Blues Festival turned 33, a magical number if ever there was one, and for the second year in a row the festival unfolded in its new setting, St. James Park in downtown San Jose. During the festival, you'd never even recognize the place, believe me. Head honcho Ted Gehrke, an institution by every definition of that word, presided over the whole shooting match, as always.
These days, however, the celebration is much more elaborate. Ramon Johnson of KSJS developed an entire "Blues Week" leading up to the festival, and the Downtown Association, embroiled in what it should do with the deceased Music in the Park series, threw a 25th anniversary celebration by booking Ozomatli in St. James Park the night before the blues festival, for a $10-$15 admission fee.
Everything kicked off at the Improv on July 16 with a star-studded blues jam that Chris Cain headlined. Reflecting on the experience, Johnson echoed the sentiments of everyone else who played that gig.
"The energy was high, people were all having a good time," Johnson said. "The Improv has a real intimate setting which really brings the blues down home."
On Friday, Ozomatli traveled through 20 different musical styles on stage during a fantastic 90-minute set. A thoroughly peaceful crowd partied the whole time, without the definitive extra thousand creeps arriving just to look for trouble. Bruce Labadie, who has booked concerts in the valley almost as long as I've been alive, emphasized that in regards to Music in the Park, it was just time for a reboot.
"Sometimes events just run their course," he told me backstage. "And Music in the Park had run its course. So it was necessary to reinvent what it is for the future, charge a small admission, get bigger acts, in a beautiful setting. And it worked out. We had a really diverse crowd, lots of kids, families, and it reminded me of Music in the Park during the earlier days, before it got all congested."
That is, back to a time when everyone showed up for the music, rather than just to be seen. With all honesty though, it did feel ridiculous calling the event a "25th anniversary." If that's the case, why not invite acts that performed during the first 25 years and throw a giant party? Wouldn't that be obvious? I mean, why not have Edgar Winter, Flogging Molly, the Tubes, the English Beat and whoever else all participate in a two-day extravaganza? I would love to see Fee Waybill say "fuck" on stage and ruffle the feathers of real estate gadflies and office drones. Again.
The next day, the Fountain Blues Festival sadly drew about two-thirds the number of the Ozomatli crowd. Maybe it was the $20 admission. Maybe it was the lineup. I don't know. It was a mellow and borderline-ambient experience-not that loud on stage or in the audience, really. Although it was much more laid back than usual, the show rocked. Poet Kim Addonizio, SJSU's poet in residence last semester, and who also plays blues harp, showed up to perform one tune as the festival started. Her talking blues number segued perfectly into the next act, Girls Got the Blues, featuring all female performers. Then came Roy Rogers, Ruthie Foster and the legendary John Mayall, all of whom played spectacular 90-minute sets. Even though the turnout was disappointing, everything shed light on how excellent of a setting St. James Park really could be, given a predominance of regular concert activity. The wide-open space with built-in walking paths and plenty of shade seems almost designed as a permanent venue.
Johnson echoed those thoughts backstage. Now after two years of the Fountain Blues Festival in St. James Park, with the help of the Downtown Association and San Jose Jazz, the festival seems to be turning a corner. As with Music in the Park, it seems to be entering a Buddhist bardo state of transition.
"St. James Park has a checkered past and it's been thought of as a troubled setting," Johnson said. "And it's now fortuitous because the city wants more positive use of this park and the Fountain Blues Festival needed a home, and it just coincided. To serendipity. This is hopefully going to be permanent home. I can see a day in the future, knock on wood, where it becomes a two-day festival."